Cleansing Hurricanes
August 12, 2010, 5:01 pm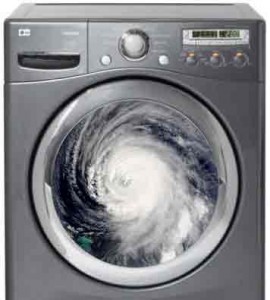 In my last post I mentioned the cleansing hurricanes of 2005. I knew the topic of those cleansing hurricanes deserved a more complete review, however I did not take the time to do it then. I believe that it is important that we understand the process of godly discipline that we experienced in 2005, if for no other reason than we will see more of this in the days and years ahead.
Just to refresh our memories, 2005 saw a record number of tropical and sub-tropical storms throughout the hurricane season. The twenty-eight storms spawned a total of fifteen hurricanes with seven of them becoming major hurricanes. Of the seven major hurricanes, five of them reached category four strength, while four of them reached the highest category of storm, the dreaded Category 5. Katrina and Wilma became the costliest hurricanes in history during that season. However, they were not the only major storms to cause major pain. Dennis, Emily, and Rita added to the misery.
Those of us who lived in the hurricane zone during this time remember some pretty intense activity. I remember being with Rick Joyner in early August of 2005. He gave me a prophetic word telling me that there were going to be a lot more hurricanes coming, but that he saw them as washing machines, releasing cleansing to the areas that they hit. If you think that all personal prophetic words are warm and fuzzy, think again. I didn't necessarily want that word, but it helped me understand the rest of the season when Rick's spot-on prophecy began to come to pass.
Most people remember Katrina for what it did to the northern gulf coast and New Orleans. While I certainly remember it for the sheer destructive power of the storm, I also remember it because it first came knocking on our door. However, the door was closed to her.
Since 1998 the Lord has trained us in the art of anti-hurricane spiritual warfare. We have seen some spectacular responses to our intercession, which the Lord has used to increase our faith. In
2004, the Lord helped us when both Frances (track depicted in red) and Jeanne (track depicted in purple) attempted to slam Broward County with hurricane force winds. We had special prayer meetings in advance of those storms and forbade them from bringing hurricane force winds to our county. Both storms headed directly for us, and then stalled with hurricane force winds swirling just off shore. Then they slowly—really big emphasis on slowly for Frances—inched north until all of the hurricane force winds were north of the county line. At that point they resumed their march across Florida (See wind distribution graphics for both storms at bottom of article for a better understanding of the size of these storms).
A year later, when we held our prayer meeting as Tropical Storm Katrina headed toward Florida in 2005, we were bolstered by "the word of our testimony" about Francis and Jeanne (See Revelation 12:10f.). We again prayed for a wall of protection between Katrina and our county. As you can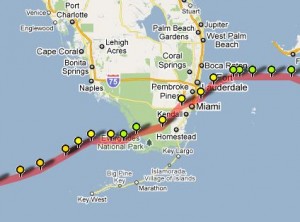 see from the graphic to the right, Katrina was headed west—left on the map—right into Fort Lauderdale (and my city, Coral Springs) until it matured from a tropical storm to a hurricane. At the point that it became a hurricane—at the fifth green marker on the upper right of the track—it turned sharply south, traveled down to the county line, and came across Florida. The northern side of Katrina was not yet developed at this point, so Broward County was spared anything but a relatively mild tropical storm. Miami-Dade County was in the news for a brief period of time because of the damage it sustained from the south side of Katrina, but their problems were quickly eclipsed in the news when Katrina made landfall on the northern gulf coast.
Katrina made landfall in South Florida on Thursday, August 25, 2005. Three days later, on the morning of Sunday, August 28, I had an encounter with the fallen being that was in charge of Katrina. In the dream/experience, I discovered this creature sitting on a washing machine (remember Rick Joyner's word on cleansing). I was with another elder from our congregation as we apprehended him, bound him, and marched him out of our house. At one point the angel spoke to me and said, "I shot an arrow at you last week and just missed." As we marched the angel out of our domain, I could feel its terror rising because it was convinced we were going to shoot it in the back of the head. Later I realized that he was afraid of our intercession as it headed away from us toward toward its rendezvous with the northern gulf the next day.
The fact that I discovered the angel/being in a washing machine, as well as a fact I didn't mention—the being was dressed in a bath towel—highlight the cleansing discipline that the Lord intended to release through Katrina. New Orleans was ripe for cleansing judgment for many reasons, not the least of which was the southern decadence festival held in the city every year. Katrina disrupted that festival, and everything else, in 2005. In fact, the city still has not fully recovered its former status as the southern decadence Mecca. Cleansing is not very much fun.
After Katrina missed us, I began to wonder if that angel had a second arrow in his quiver to shoot at us. I was not deluded into thinking that our area of South Florida didn't need or deserve cleansing judgment. So we prayed a lot about mercy during that season knowing that mercy triumphs over judgment (see James 2:13).
When Wilma appeared on the scene toward the end of October and began its rather long and winding journey, we also held prayer meetings about it. However, when it passed by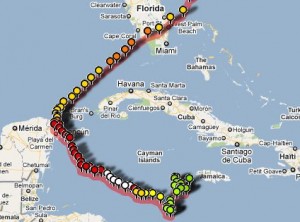 us into the Gulf of Mexico, we didn't think it was much of a threat to us. You can see from the graphic at the right that we should have paid more attention to it. We continued to pray about it at our Friday night and Sunday morning meetings, but we did not hold any more special prayer meetings. Meteorological reports made us believe that it would not become a threat after exhausting its energies on Mexico's Yucatan Peninsula.
There was no doubt that Wilma was a cleansing hurricane. It become a major hurricane and sat on top of Cancun and Cozumel scrubbing them clean. Both locations had become key Spring Break sites. As a result, they have become a stumbling block to college students. I was really glad that Fort Lauderdale had repented of its Spring Break mindset several decades ago, especially as I watched Wilma slow to a crawl and vent its category four fury on Cancun and Cozumel for a full day.
But then, after it was done with the new Spring Break locations, Wilma decided to come to the original Spring Break center in Fort Lauderdale. I don't know how the divine scales of justice work, but I can imagine that it would not be just for Cancun and Cozumel to be so scrubbed, without Fort Lauderdale at least being reminded of its nefarious role in developing the original concept.
Wilma showed up on a Monday morning with surprising strength. It caused very little damage to the west coast of Florida when it made landfall, but boy did it wallop Fort Lauderdale (and all of Broward County). Contrary to meteorological predictions, Wilma maintained strength over Florida and did far more damage on the east coast than it did when it made landfall on the west coast. Electricity was out for weeks in some areas of our county. Wilma did about $20 Billion dollars in damage when it came to visit the U.S., and became the third costliest hurricane in United States history behind Katrina and Andrew. Cleansing judgment isn't cheap.
Wilma hit our area on a Monday morning. Much of the rest of the week was spent in clean up and dealing with the fact that we had no electricity. On Saturday night I was asking the Lord how Wilma had done so much damage. I specifically asked whether it was the second arrow in the quiver of the angel from Katrina. As I researched the internet that night, thankful for the generator that made it possible, I came across the answer to that prayer in an article on a NBC news affiliate's web site entitled The Mystery of the Eye. The copyrighted article—which means I can't post it—points out an unbelievable phenomenon that occurred in Wilma's eye just as it made landfall in Florida. A number 2 formed in its eye.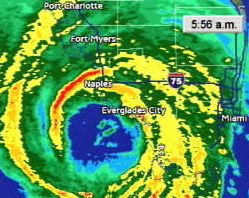 The picture at the right is not retouched. It appears exactly the same way it looked when first broadcast on the NBC affiliate. The National Hurricane Center's website posted a similar image with the number in the eye.
You can still find this image on the web if you google "Wilma" and "the mystery of the eye." Be warned that you will end up on web sites that use this image to fuel their claims that hurricanes are man-made and the number two is evidence of this fact. In view of the prayer I had prayed, the number two in the eye of the hurricane as it made landfall in Florida demonstrated something quite different to me. This was arrow number two, and this one didn't miss. It brought cleansing judgment to our area—and to Key West.
That is the point I made in the previous post. When Wilma's cleansing judgment came to Key West it flooded about sixty percent of the island under four to five feet of water. Fantasy Fest, Key West's week long version of the southern day of decadence was postponed by Wilma's approach, and washed out by her visit. However, as I wrote in my previous post, Key West did not learn the lesson of the cleansing, but quickly returned to its excesses. That is why I fear for them. In my last  post I could not go into my reasons for that concern. Hopefully this post makes it much more clear. I am absolutely convinced that the angel that I encountered after Katrina, the evil angel that the Lord allows to bring hurricanes in judgment against areas in need of cleansing, I am convinced that angel has more arrows in his quiver. For this reason it is not safe to ignore the cleansing hand of God. It is not fun, and it can be very costly.
I do have hope for Key West. Fort Lauderdale was able to repent of wicked Spring Break activities and change. If it happened here, it can happen there. Hope springs eternal.
———————————————————
Wind Fields of Frances and Jeanne (Hurricane force winds are in red):
Frances
(On Left)
Jeanne
(On Right)
Share on Facebook