2004 Hurricane Season Redux
August 23, 2010, 2:23 pm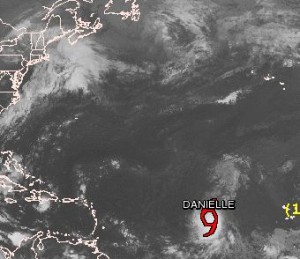 Last Friday night we held a prayer meeting to intercede about the hurricane season. This was our third preemptive prayer meeting this season. We only hold three such scheduled prayer meetings during the hurricane season. Of course, we also hold specially-scheduled prayer meetings if South Florida is painted into the "cone of uncertainty," or if we hear that the Weather Channel's storm reporter, Jim Cantore, has booked a flight in our general direction.
At last Friday's prayer meeting I rehearsed what I knew so far about this season. Earlier in the year, I had a strong feeling that this season was going to be like the 2004 season. The Lord does speak to me through these strong feelings, so I have begun looking more closely at the 2004 season. While 2004 was not like the busy and devastating 2005 season, it still did a bunch of damage to Florida and other areas of the United States.
On Friday night as we were praying, the Lord gave me one of those "Ah Ha!" moments. As I looked over the storm names for this season, I realized that this year's storm names are the same ones used in 2004. While I know that the annual list of storm names is used in a rotation, I didn't realize that we were on 2004's list. When I realized this, I realized the Lord has really been trying to communicate to us about this hurricane season.
So what can we expect if I am correct that this season is going to be like the 2004 season? Well, first we can expect a fairly busy season. We had fifteen named systems during 2004—seven more than last year. We also saw major damage in Florida from five of these storms. So the 2004 season wasn't a good season for residents of Florida (or for the insurance industry). I would hope that after six more years of intercessory development since 2004, that the praying Church will be more successful at releasing protection over our areas of influence this year. So while the season may be busy, my focus will be on praying away the damaging storms. We really do not want a repeat of the destruction unleashed in the 2004 season.
The other thing about the 2004 season was that the Lord had spoken to us about two specific named storms before the 2004 season began. As it happened, neither of these storms came near South Florida, so we didn't know if the dreams were for the 2004 season.
I've already written about Bonnie, which was one of the storms. Bonnie did hit northern Florida in 2004, however, the dream was about Bonnie hitting South Florida. Bonnie did hit South Florida this year (see my post on Bonnie HERE). I'm not absolutely sure how all this works, since I learn more about how the Lord speaks to us about storms every season, but I find it incredible that the Lord spoke to us about Bonnie eight years before Bonnie actually hit us. So, of course, now I'm wondering about this other storm. It also did not get that close to South Florida in 2004. Are we looking at another Bonnie moment? Time will tell.
That is the nice thing about working with the hurricane season. We learn a lot about how the Lord speaks to us because we can test our understanding against what really happens. We can then correct our understanding and hopefully get better every year at discerning what the Lord is saying to us. I'll keep you informed as the season progresses if the Lord gives us anything more on a specific storm, or the season in general.
We are entering into the busiest part of the hurricane season. Danielle was named this morning. Although she doesn't appear to pose a threat to any interests in the United States, she is a reminder that the busy season is here. Please pay attention, and pray appropriately.
Share on Facebook