Operation New Dawn
August 31, 2010, 9:38 pm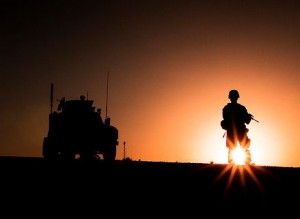 Operation New Dawn starts tomorrow (September 1, 2010) in Iraq. Operation New Dawn began on November 8, 2004 in Iraq. Operation New Dawn began on July 1, 2004 in Iraq.
All those statements are true. And that, to say the least, is very odd.
Normally the military does not reuse operational names in the same theater of operation for the same reason we avoid naming our kids with the same names. It can only cause confusion. Even though the military understands this need, it has used Operation New Dawn three different times for different aspects of the Iraq war.
The first time they used this title was on July 1, 2004. I remember the Sun-Sentinel headline because the headline spoke to our congregation—New Dawn Community Church—in an amazing way. We had decided to follow MorningStar Ministries' leading and not hold any meetings for the month of July. We were understandably a bit nervous about it. We had never skipped a Sunday service, and the idea of skipping a whole month was difficult to imagine. So the headline caught our attention and greatly encouraged us: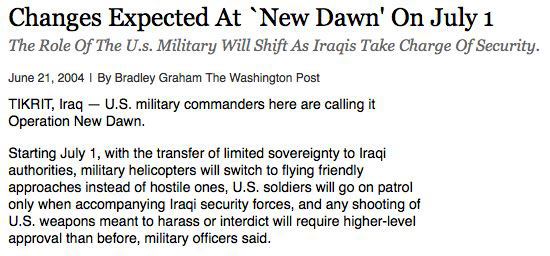 The second time the name Operation New Dawn was used was later in 2004 during the battle for Fallujah. I didn't catch this use of the New Dawn moniker, probably because the military had originally christened the offensive Operation Phantom Fury. Apparently Iraq's Defense Minister wanted to call it Operation al-Fajr, which is translated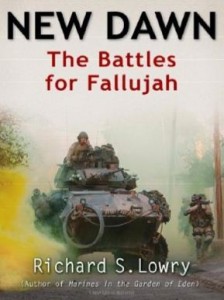 Operation New Dawn. Since the first New Dawn of 2004 had transferred limited sovereignty to Iraqi authorities, we can understand why his wishes prevailed. The second Operation New Dawn commenced on November 8, 2004. As the battle victoriously concluded, one of Iraq's ministers announced, "It is with all pleasure that I announce to you that Operation New Dawn has been concluded."
Starting September 1, the name will be used a third time in Iraq. The combat phase of the Iraq war—Operation Iraqi Freedom—will give way to the stabilizing phase, Operation New Dawn.
All of this may seem to be an irrelevant, and—because of our name—self-focused trip down memory lane, except for one thing: The Lord gave our congregation its name as a sign. Our congregation is named New Dawn because I believe the Lord wanted it to have that name. I certainly didn't want to give it that name.
Let me explain. Back in May of 1995 I was happily the pastor of Shepherd of the Springs Church in Coral Springs—Notice the nice conventional name. We were newly freed from our denomination and were pursuing the things of the Lord with intense excitement. Things were popping spiritually. Dawn and I had decided to take our family to a MorningStar Ministries Prophetic Conference because we wanted to know more about that ministry stream and explore connecting to it. We were in attendance at the Friday night meeting of the conference when Paul Cain was the featured prophet and speaker. Paul had a reputation for having a profound prophetic gift, often calling people out of large crowds by name, telling them where they lived, and other details and encouragements from the Lord. So we were excited to be there, even though we didn't really expect a personal word.
During the ministry time that evening, Paul received a word of knowledge about Dawn and I. Thousands of people were in attendance as Paul began to share the things the Lord had shown to him. He explained that the Lord had given him the names of some people and things they needed to know. Then he asked anyone whose name he called to come to the front for further ministry. I do not remember how many names he called, because as he was going down his list he said, "Randal and Dawn, there is a new dawn." Since we did not know anyone there, and since no one knew us, we were pretty stunned. When we went forward, we received further ministry, but did not find out anymore about this new dawn that Paul had mentioned. I was actually pretty happy with the original Dawn, so I wondered about what this meant.
It didn't take us long to find out. One month later, in June of 1995, I began to discover that not everyone at Shepherd of the Springs was as excited as I was about pursuing the Holy Spirit. As a result, we lost about half of our membership over the course of that month. This was not very much fun. But God is really amazing. At the same time that we were going through this difficulty, we were approached by the leaders of another congregation in Coral Springs, Praise Harvest Church. Praise Harvest had been without a pastor for about six months, and they were considering closing it down. Together we decided to explore whether God was setting up a merger instead. We began to meet and pray about joining together, and we set the last Sunday of July as a date for both congregations to worship together.
When that Sunday came, both congregations came together. There was a lot of excitement in the air. What we didn't know, is that God had arranged for a prophet from Colorado to be in our city for a business meeting. He came to our Sunday morning meeting because he had met one of our leaders, but he knew nothing about what was going on in our congregations. As he sat down next to the leader, he began to write furiously on a legal pad. Before the worship was over or anyone had begun to speak, he gave a hand-written sheet of things that the Lord had shown him to the leader. At the end of the meeting, after I had explained to everyone that we were exploring whether this potential merger was a new dawn, he introduced himself to me and asked if he could read what God had shown him. I allowed him to do so. When he had retrieved his paper, one of the first things he read was, "This is a new dawn." At that point we knew that God had called our congregations together. God not only used this man to help us understand and apply Paul Cain's word, he also used him to give us a part of our calling. He told us that we would be an Isaiah 60 congregation. God wanted to use it as a prophetic signpost to proclaim the words of the first three verses of this chapter:
"Arise, shine, for your light has come,
and the glory of the LORD rises upon you.
See, darkness covers the earth
and thick darkness is over the peoples,
but the LORD rises upon you
and his glory appears over you.
Nations will come to your light,
and kings to the brightness of your dawn.
(Isaiah 60:1-3 NIV)
With such obvious prophetic confirmation, we merged the two congregations into a new dawn. However, I certainly wasn't that interested in naming the congregation New Dawn. I was firmly in the grip of the fear of man on this issue. I understood that everyone who knew me would think I had named the congregation after my wife. I also knew that if we named it New Dawn, that virtually everyone who ever attended the congregation would be drawn to the conclusion that we had named the congregation after my wife. I just wasn't ready for this, so I punted. I asked the congregation to come up with suggestions for the name. Of course, New Dawn was nominated, but if I recall correctly, so was Holy Gator of the Sawgrass. After some initial votes—in which Holy Gator fell to the wayside, the final vote centered on New Dawn and one other name. I, in my best pastoral imitation of the cowardly lion, chose not to vote. I certainly wasn't going to let this thing be my doing. Imagine my surprise and chagrin when we counted the votes and discovered that they were evenly split between the two names. I had tried to punt, but the punt had been deflected by God's hand right back into my lap. I had no doubt that this was a message from the Lord. So I quickly repented of my cowardly lion ways, declared the vote a tie, and personally took responsibility for naming the congregation New Dawn.
While this has NOT been great fun exposing my reluctance to follow what the Lord had been showing me, I am doing so for a reason. This congregation's name was not my idea. The Lord, in spite of me and the Holy Gator crowd, made certain that this congregation would bear this name. So when the name New Dawn shows up in the headlines in such odd and obvious ways, I pay attention. I recognize that God is attempting to say something through all of this. But the question is, "What is he communicating?"
I might be able to help with a small part of the answer to this question because of something I heard Bob Jones say last week. I attended a meeting where Bob Jones was speaking. Bob is a father of the prophetic movement in the United States, and when he speaks, I listen. He explained some things about what God had shown him for 2011. He also explained that on God's calender, 2011 begins on September 8, Rosh Hashana. Bob told us that this year God is ushering in the year of the Lion. What this means is that God's authority is being released into his people in a new way. As a result, God's people will begin to walk in new authority as this new year progresses. We are going to see the Lion of the Tribe of Judah reflected in his people through the authority he gives them.
Of course, that is what Isaiah 60 is all about. As the world gets darker and more difficult, God's people will shine with the light of his glorious authority. As his people demonstrate that authority, it will eventually draw the attention of  world's leaders. As God's people further demonstrate that they have God's answers for our world, the world's leaders will come seeking. They will come to the brightness of our dawn.
That is probably only a small part of what God is saying through all this.  But at this point, it is enough. There is a new dawn starting in September. It isn't Operation New Dawn, though the Lord has used the timing of that operation to communicate his timetable. The new dawn that we will see is found in Isaiah 60. It is time to arise and shine.
Share on Facebook