Earl
September 1, 2010, 10:11 pm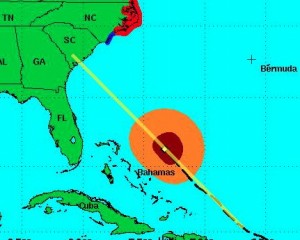 The graphic on the left is not a prophetic prediction of Earl's path. I took the graphic from the National Hurricane Center (NHC) website, and added a yellow line in order to highlight Earl's direction for the last three days. The NHC has predicted that Earl will curve to the north some time tomorrow because of the atmospheric conditions.
This is what the hurricane center stated in its latest report:
SATELLITE AND RECONNAISSANCE AIRCRAFT FIXES INDICATE THAT EARL
HAS BEEN MOVING RELENTLESSLY TOWARD THE NORTHWEST OR 310 DEGREES
AT 15 KNOTS. THE HURRICANE IS ABOUT TO REACH THE WESTERN EDGE OF
THE SUBTROPICAL RIDGE AND SHOULD BEGIN TO TURN MORE TO THE
NORTH-NORTHWEST AND NORTH LATER TONIGHT AND THURSDAY.
The relentless movement to the northwest is what concerns me. I trust they are right about the turn to the north, but I also remember many times when the NHC has missed the track because of last minute changes in the pressure ridges, or because of Satan's nasty little plans.
I also know of a prophetic word from a well-known prophetic voice who saw that the Carolinas needed prayer this year because of a threat from a hurricane. Earl certainly qualifies as such a threat.
It would be a great time to pray for the Carolinas.
Please pray specifically that Earl curve northward this evening and tomorrow in order to miss the coast of the Carolinas (and beyond). If you live in the threatened areas, use the authority you have over your geographic area to establish a wall of protection against any hurricane force winds. We will join our prayers to yours. Pray also for dry air to encroach on this thing and that wind sheer would increase.
The Body of Christ has authority over the natural. I expect that we will have many more times to exercise that authority yet this year. Let's exercise it now so that Earl turns harmlessly north.
Share on Facebook