Igor, Julia, and Karl—Oh My!
September 14, 2010, 8:21 pm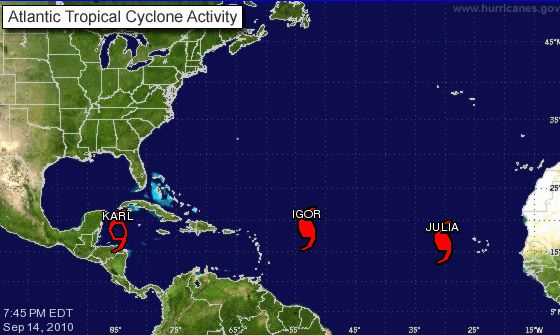 When the National Hurricane Center (NHC) points out that we are at the height of the hurricane season, they are not kidding. At this point we have three active systems that have formed in the Atlantic.
Igor doesn't appear to be much of an issue for the United States. It could certainly become an issue for Bermuda, but it appears that it will not be an issue elsewhere.
Karl looks like it will remain a tropical storm as it makes landfall in Mexico. Of course, rain events that cause flooding and mudslides can be deadly, so it would not hurt to pray for the safety of those who dwell in the Yucatan and other parts of Mexico.
Julia is still too far away to determine exactly what she is doing. The current three day track shows it bending on a north to west curve toward the United States mainland for those three days, and then moving directly north in the days after that.
And after all this, the next named storm will be Lisa. If Lisa forms and is aimed anywhere near Florida, I will tell you more about what I have on it. In the mean time I'm going to continue to thank the Lord for his protection thus far, and I'm going to continue to pray for that same protection for the rest of the season.
Share on Facebook