Lisa, Old Friend, Not So Good to See You Again
September 22, 2010, 2:52 am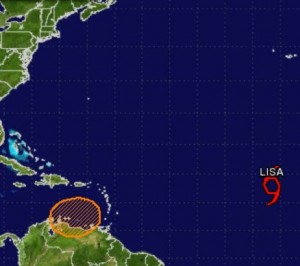 It would be a good idea to pray that Tropical Storm Lisa a) Doesn't develop; b) Goes north; c) Dissipates; d) Add your own storm prayer here.
It sure does feel like the 2004 season. During that season Lisa puttered around confusing the forecasters for a long time. Hopefully, that is all she will do during this active season.
Please stay alert and continue to pray for a relatively peaceful season. Let's use our authority so that Lisa will come into agreement with that prayer.
Share on Facebook