Indonesian Troubles
October 27, 2010, 9:24 pm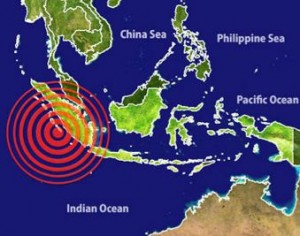 I can't imagine what it must be like living in Indonesia this morning. First, the country suffered a magnitude 7.7 earthquake that spawned a killer tsunami on Monday. The Indonesian government is reporting upwards of 300 dead and hundreds missing. Second, in an unrelated incident, a volcano erupted about eighty miles away. The death toll from that eruption, and the resultant pyroclastic flow (the rush of hot gases from the eruption), killed at least thirty people while many more were seriously burned.
Indonesia is slightly over 85% Muslim, so they do not have a lot of Christian intercessors to release protection over the nation. Obviously, evangelism is VERY discouraged, and even deadly. So Indonesia is caught in a difficult catch-22. Indonesia needs more prayer protection,thus Indonesia needs more conversions to Christianity. Yet when there are more conversions to Christianity, the Muslim population reacts against the Christians oppressing and persecuting them, reducing their numbers (and prayer coverage).
As we move more fully into the season in world history in which we live, we should not be surprised by cataclysmic events in areas of the world that have little prayer coverage. We should be surprised, and challenged, every time such a disaster hits the shores of a nation with networks of intercessors. It is time for intercessors to rise and make a difference.
Please pray for spiritual light for the people of Indonesia. Also pray for mercy, and that appropriate aid would get to where it is needed.
Share on Facebook