It's Almost a Quarter of Ten
January 27, 2011, 10:09 am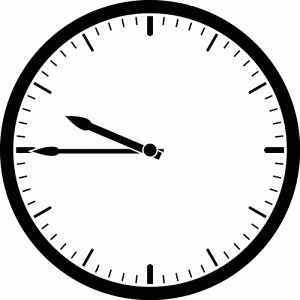 I was in a study meeting this past Tuesday evening, when the Lord decided to reveal some things to us about what he is doing. One of the people in attendance began to share a dream that she had recently had. The dream was about needing to be someplace at 10:00 AM, but she was not yet ready and it was quarter to ten. The dream was about preparation, growth in Christian character, and the opposition to these things that God's people experience as they step into his plan for them.
As we discussed the dream and its applications, Dawn got my attention and reminded me that a couple of weeks ago the Lord had told us to watch what happens at quarter to ten. Now I was really intrigued because of the connection between the two things. As we chewed over what "a quarter of/to ten" might mean, someone wondered if it might be speaking about October. Then another person added that October starts a new quarter of the year (a quarter beginning with ten).
As I listened to the discussion, the Lord dropped something into my spirit. I realized that if Rosh Hashanah (the Jewish New Year) ushered in the fourth quarter of this year, that we probably had the right interpretation of what God was saying to us. I remembered that Rosh Hashanah fell in early September of this past year, but I also know that it moves around our calendar. So I checked my handy iPhone calendar, which I had previously loaded with Jewish holidays, and found that Rosh Hashanah ended at sundown on September 30, and that October 1 started at sundown of that same day (according to biblical/Jewish reckoning, the next day always starts at sundown). So the Jewish new year is ushered in at the end of the third quarter and the beginning of the fourth quarter (a quarter of ten).
Since I had been given this insight into Rosh Hashanah's date through revelation, and since it was confirmed by the calendar, I knew that we had hit on the correct interpretation of what God was communicating through using this clock metaphor.
Anyone who is experienced in working with God's parables/metaphors, whether they occur in the Bible, dreams, or other communications, can appreciate how God led us forward in this search for understanding. According to Proverbs 25:2, "It is the glory of God to conceal a matter; to search out a matter is the glory of kings." God has built truth into his metaphors and similes because it releases his glory into our relationship as we determine that the search for understanding is worth our effort.
In this particular instance, I believe the Lord is telling us to watch what happens beginning with the Jewish New Year this year. It is something for which we must prepare by continued Christian growth, no matter what the opposition to that growth is. It will be something important for the people of God.
Watch what happens at a quarter of ten.
Share on Facebook