Miracle on 34th Street
February 16, 2011, 11:02 am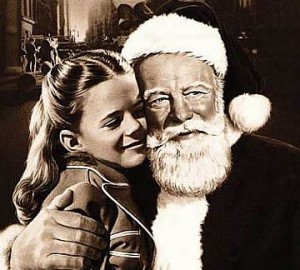 On Sunday night, the original version of Miracle on 34th Street played on TMC network. I can imagine that there were many people who wondered what in the world was going on. People who tuned to TMC that night may have expected to encounter a romantic comedy or some other Valentine Eve movie flirting with the themes of true love. Of all the love stories they might have imagined seeing, I can't imagine that many would have thought they would see a Christmas story on February 13th.
What was TMC thinking?
I don't know what they were thinking, but I can tell you that those members of New Dawn congregation who saw it on Sunday night knew that God was speaking through it.
Two weeks ago I announced to the congregation that we were planning to move our congregation to a new location in Coral Springs. We have been in our current location for fifteen years, and although it is hidden from the community, it has been a good home for us. But now the Lord has made it abundantly clear that it is time to move out into a more visible location. So, two weeks ago, I announced that we were planning to move to Sample Road in Coral Springs, to a very visible new location. We had reached agreement on a lease with the owner of the building. So, after a Sunday service, I outlined our plans to the congregation.
That Sunday evening I had our leadership team at my home to receive ministry from a prophetic friend of mine. During that meeting, my prophetic friend received a text message from another friend who lives in the Charlotte, North Carolina area. That text message said, "Tell Randy that the Lord said there is a miracle on 34th Street." Neither my prophetic friend, nor the mutual friend in Charlotte, knew anything about our plans to relocate our congregation. Because I know how the Lord speaks, and because of the morning's announcement about the move, I immediately assumed that Sample Road must also be called 34th Street. I've never heard it called 34th Street. There are no signs that say it is 34th Street. But I knew it must be 34th Street. So I quickly checked the Maps app on my iPhone, and found that Sample Road is indeed 34th Street on the GPS application. I checked several other GPS applications, including Google Earth, and got the same result. Sample Road is 34th Street.
You can imagine how encouraged I was by this prophetic word. I felt the Lord's endorsement of our move. I don't know all the implications of this endorsement, but I do know that something about this move will release miracles on 34th Street.
When the lease was delayed over the course of the next two weeks, I was able to hold on to the prophetic word and stay in rest. I knew that the Lord had spoken. I knew we would see the miracle on 34th Street. Finally, on February 11th, last Friday, we received the signed lease. When I held up the lease this past Sunday morning in our meeting, everyone cheered. They understood the miracle on 34th Street had begun.
Then, on Sunday night TMC played the original version of Miracle on 34th Street.
I don't know why TMC chose to play Miracle on 34th Street. But I believe I know what it meant.
Share on Facebook