What's Up With Cuba
February 26, 2011, 11:59 am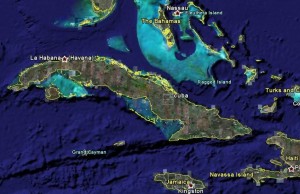 Cuba has been isolated from the United States for over fifty years since Fidel Castro and his regime took over the Cuban government. Since Castro's earliest years, Cuban Americans have longed for the day when his dictatorial regime fades into history. Over the years they have done what they could do to shorten Castro's days, with no real success.
To this day, Cuban Americans look with longing for the day when Cuba will be free. Many Cuban Christians have prayed for the day when Cuba once again opens its doors, not only to freedom, but also to the free proclamation of the gospel of Jesus Christ. That day may soon be upon us.
In November of 2004, the Lord spoke to me about Cuba. He did it through a dream in which I was listening to a conversation about Cuba and savings bonds. The gist of the dream was that Cuban savings bonds were worth nothing in the United States. However, if you invested eight dollars in a U.S. savings bond, you would get ten dollars back. When I woke up from the dream, I recorded it on a memo recorder, and added that I understood that the Lord was showing me that Cuba would open up in seven years.
When I awoke that morning and played back the voice memo, I wondered about my confident assertion that Cuba would be open in seven years. I was not aware of any movement in this arena, and apart from Fidel Castro's death, I didn't see how Cuba could be free. But because I was familiar with how the Lord speaks to me in dreams, I pursued the Lord about this dream.
Part of the pursuit involved looking up U.S. Savings Bonds. I wanted to determine how long it would take for an eight-dollar investment to become ten dollars at the current interest rate. As I investigated, I found that the interest rate on that day, the 10th of November 2004, was 3.25%. I'm certainly not an investment counselor, but I know enough to be able to figure simple interest by hand. I also used a software program to double-check my accounting acumen. The software program agreed with my rudimentary calculations. At 3.25% interest, eight dollars would be worth exactly ten dollars in November 2011; exactly seven years from the time I had the dream.
So, I understand what the Lord did. He allowed me to tap into a bizarre discussion about Cuba in a dream one night. As I was waking up he spoke into my spirit that this discussion meant that Cuba would be open in seven years. Then he confirmed it all by using simple math from numbers given in the dream.
Right now, in South Florida, many from the Cuban Christian community are asking the Lord for a word on Cuba. They have increased expectation that Cuba will soon be open. What did not look possible back in 2004 is beginning to look possible and perhaps even probable. It is an exciting time.
I have been looking forward to this year ever since I had a bizarre dream encounter back in November 2004. Over the years I have shared my expectation that Cuba would open by November 2011. Now that year is upon us, I am looking forward eagerly to what is going on in Cuba.
The Bible is clear that we only know in part (see 1 Corinthians 13:9). So I do not believe that I have the definitive or final word on Cuba. I am also eager to hear what God has been giving to his prophetic people. MorningStar Ministries is hosting a prophetic roundtable the second week of March at my congregation. Rick Joyner will be with us as we seek the Lord about Cuba and many other things. I hope it will add much clarity to what I already know as the prophets come together.
Will you join with me and pray that Cuba opens up this year? Can we confidently call upon the Lord of all nations to fulfill the confident expectations of his people this year? I believe we can.
———————————————-
Conference and Prophtic Roundtable Information at www.newdawn.org
Share on Facebook