Japanese Quake
March 13, 2011, 7:07 am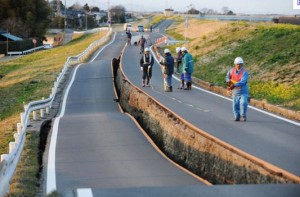 I'm sorry I haven't posted about this yet. I have been hosting MorningStar's LionFire Conference and Prophetic Roundtable here in South Florida. I will certainly post some things this week.
There are a few points I can make now. First, this is a horrific tragedy that is still unfolding. We must continue to pray for mercy and supernatural help, especially as Japanese authorities deal with the nuclear reactor problem. Second, this certainly is a part of the "shaking up" message that the Lord gave us earlier this year (see THIS article). Third, this event has impacted tectonic plates around the world. We can expect more of this type of shaking to continue as a result. Fourth, many prophetic people have seen that some very difficult times would be initiated by events in Japan. Bob Jones prophesied back in 1997 that a Japanese earthquake would initiate major financial shaking in the United States. If this is what Bob saw, we can expect to see Japan selling its United States Treasuries in order to pay for rebuilding, further destabilizing the financial position of the United States. And fifth, those of us at the Prophetic Roundtable remembered that when we gathered last year for a Prophetic Roundtable in South Florida in February, there was an 8.8 magnitude earthquake in Chile. First reports in from Japan indicated that it was an 8.8 magnitude earthquake. We are still studying this eerie coincidence to see what, if anything the Lord has to reveal to us.
That is all I have time for now. Please pray for the people in Japan, and for all those who live in earthquake-prone areas. We may see more of these this year than we thought probable. Things really are being shaken up.
Share on Facebook