Expect More Shaking!
March 15, 2011, 9:48 pm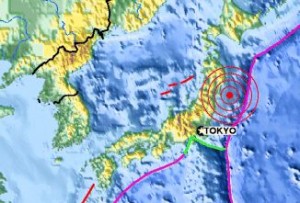 I've posted twice on this theme already this year, but when you hit the theme for the year on the head, you might as well run with it.
On January 7, I wrote an article (see it HERE) about the fact that the Lord had told us he was about to shake things up. At that time I wrote:
"When I hear about God shaking something up, I wonder just what type of shaking we are discussing. Some shake ups are political, some are economic, some are literal shakings in the earth (earthquakes)."
We have had severe economic shaking (with more to come). We have had major earthquakes in New Zealand and now in Japan. We have also had political shake ups going on even to this day. Things are certainly being shaken  up. Expect more.
Bob Jones saw the Japanese earthquake over twenty years ago. At that time he saw the nuclear issues surrounding it (Bob spoke of a mushroom cloud connected with Japan). I think we can safely say that this event is the one Bob saw.
When the Lord showed Bob the Japanese earthquake, he also showed him that it would initiate further financial shaking. He also saw that it would precede some severe earthquakes in the United States. As a result of Bob's prophecy, which Rick has known about for years, Rick has called on Christians to begin praying for California and the northwest United States. We must intercede because of the times in which we live. The times that we knew were coming, are here. When God speaks of shaking, things really do shake.
When I wrote the post on shaking, I also added God's promise. He said, "The shaking will not come near your tent."
I think we need to grab on to that promise whenever things are shaking. We also need to listen closely to the Lord so that we are prepared when things shake. Pay attention. He wants his people to survive and thrive during these times.
Share on Facebook