Extreme Prayer
April 29, 2011, 6:50 am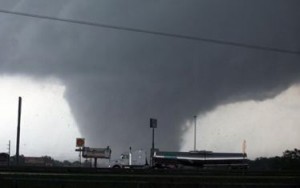 The incredible carnage left by the storms that went through Alabama, Mississippi, and other parts of the South this week, is sobering. The death toll has climbed over 300 as entire city blocks have been leveled. We must continue to pray that the death be taken out of these storms. The pictures and video coming out of the storms are a breathtaking reminder of why we must pray over these systems.
My first post in this series was entitled Extreme Weather Grace. It was a reminder that there is grace available for these systems. My second post celebrated the fact that grace was released in St. Louis last weekend, and though the system caused a lot of damage, no one died (Extreme Weather Grace on Display in St. Louis). I'm sure there is much to celebrate today if we knew the individual stories of God's grace that made the difference between life and death throughout the South this week. I'm certain that there will be testimonies of divine intervention shared at many churches and other meetings throughout the South. But there will also be many tears as people gather to bid farewell to those who died in these storms.
The difference in those meetings, one filled with celebration and one filled with grief, motivates me to keep on praying for those in harms way. We may have reached a demarcation time in history where systems like this must come because the earth is groaning for the sons of God to be revealed. But even if we have reached such a time, we can exercise the authority with which we have been entrusted so that there are more testimonies of divine intervention than there are sad farewells.
I am grieving with the South this week, waiting to hear the testimonies of grace that surely will come, even more determined to see God's intercessory people stand in victory over such systems. The last enemy to be overcome is death (See 1 Corinthians 15:26). Let's make things like these storms one of the first things that God's people overcome.
Share on Facebook