The Mighty Mississippi Humbles Us
May 14, 2011, 9:06 pm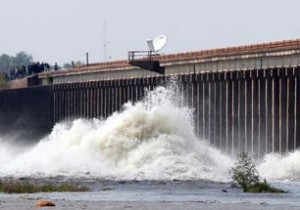 I've been watching the slow motion disaster occurring around the Mississippi River. I haven't had a lot to say about the continuing disasters that are unfolding, simply because I think I've written a lot on the topic already. This is what the Lord told us to expect. It is happening.
Of course, we didn't know exactly how the extreme weather and other shakings were going to unfold, but we knew they wouldn't be fun for those involved. We've certainly seen the truth in that. This isn't fun, but it is necessary. We have become a proud people, and we need to be reminded that we are far more frail than we think. We need to be reminded that we need the Lord's help. By the time this is over, we will know that.
In the meantime, I'm going to continue to pray for those in harms way. And I am going to continue to believe that God has given authority to his people to bring safety and protection to their areas of influence. We cannot always avoid the shaking, simply because of the times in which we live, but we can use our authority to plead for those in harms way, and we can help in a variety of different ways when disasters touch the lives of other people.
"Arise, shine, for your light has come,
and the glory of the LORD rises upon you.
See, darkness covers the earth
and thick darkness is over the peoples,
but the LORD rises upon you
and his glory appears over you.
Nations will come to your light,
and kings to the brightness of your dawn.
—Isaiah 60:1-3
Share on Facebook