Tropical Storm Emily (Updated Sunday)
August 4, 2011, 8:27 am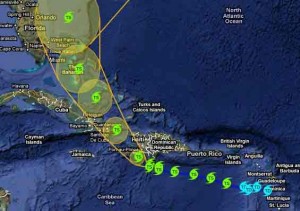 I have purposely not posted much this summer in order to give my keyboard a break. However, we are now far enough into the hurricane season for me to dust off the keys of my word processor and industriously type a few words about a tropical system named Emily.
This past Sunday, July 31, we invited Emily to come to South Florida. It didn't have a name then, but the National Hurricane Center was reporting that the tropical disturbance that would become Emily, was developing (Emily was only a tropical depression at the time, shown by the blue markers on the graphic). So we decided that it would be nice if a tropical system that was not a hurricane would come to South Florida.
As I write this, Emily is a tropical storm (indicated by the green markers on the graphic), and is located just south of Haiti. She is now forecast to visit us by the weekend (her projected path is marked by the lines).
Florida needs tropical systems to drop copious amounts of rain on us over the summer. Our dry season starts in November. Lake Okeechobee, our wells, and the Biscayne Aquifer all need to be full before that season starts. If we don't get enough rain over the summer, there are all sorts of negative consequences. So while we pray against hurricanes, we occasionally invite, even command, tropical storms to come and drop their moisture on us.
We did that back in 2008 with Tropical Storm Fay. When Fay was still southeast of Cuba, our congregation prayed that it would come around the west side of Florida, cross over to Lake Okeechobee, and sit on its watershed. Fay did exactly what we had prayed, and sat over Lake Okeechobee and Florida for days. Here was Fay's track: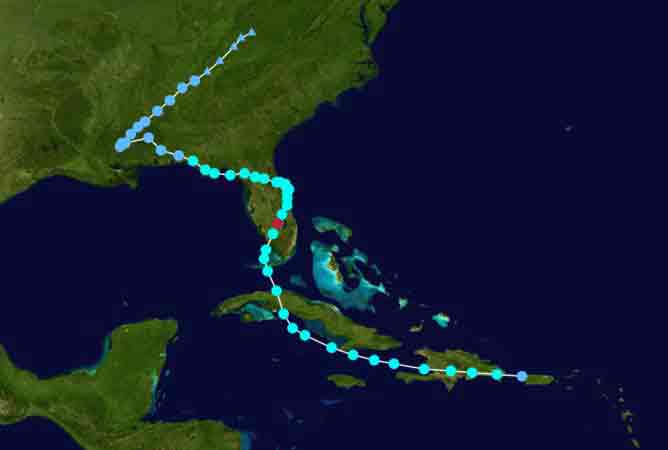 Notice how bunched up the tracking dots become once Fay began to impact Lake Okeechobee (the lake is under the red dot in the graphic). Fay sat on top of Lake Okeechobee's watershed and replenished it, breaking a drought that had hurt South Florida.
We have learned a little since then. Fay caused flooding in the city of Melbourne, and so when we prayed that Emily would bring her rains, we also prayed against flooding. We are continuing to pray that Emily will not strengthen beyond a tropical storm, and that she bring her rains to Lake Okeechobee's watershed.
Please join us in asking the Lord to use this system for South Florida's benefit.
————————————————————-
If you live in South Florida, you know that Emily came to visit on Saturday. Emily herself did not stumble over Florida. But she remained just far enough off shore that we got her bands of rain. The rain she brought yesterday and today has been a needed blessing, and it is still raining a lot even as I type this. Thanks for joining in the prayer to get some rain to South Florida. Emily had actually dissipated on Thursday. It looked like it would bring no rain. But amazingly, on Saturday, it reformed and dropped a lot of moisture. It's fun to watch our prayers work.
Share on Facebook