Tropical Storm Irene
August 21, 2011, 8:22 pm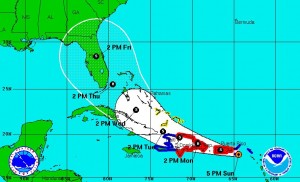 I don't know about you, but storms by the name of Irene are beginning to bug me. Just when you think your done with the thing, six years have passed, and here it comes again.
Our first bout with Irene was in 1999. The Lord used Irene to teach us about authority over negative weather patterns. The name showed up again in 2005, this time attached to a hurricane that never came very close to the United States. Now, another six year cycle later, South Florida is in the cone of another storm named Irene.
If you take a look at the graphic, you will note that the National Hurricane Center has plotted the center line of Irene's path directly over Fort Lauderdale and up through central Florida. The good news, of course, is that South Florida could see some much needed rain. We have been asking the Lord to send a non-hurricane tropical system over Lake Okeechobee to fill it a bit more. The negative is simply that South Florida is under a hurricane threat as a result of Irene. Whenever we show up in the cone, you begin to feel tension rise. That tension will only increase in the days ahead. News and weather services will begin their drumbeat of hype until it drives folks to distraction. Storms are great for ratings.
We took some time to pray about this Irene in our worship service this morning. We actually prayed at several different points because it is so much a part of our calling. When God gives you authority, you need to take the time to exercise it. If Irene actually becomes a threat to South Florida, we will have another prayer meeting. Some people might think that it is already a threat, but the truth is that it is much a threat to North Carolina as it is to us. We may be in the Cone of Uncertainty, but it is called that for a reason. The storm's actual track is supposed to be somewhere in that cone, unless the cone changes tomorrow, which the cones usually do.
Here is the current computer model run for possible storm tracks: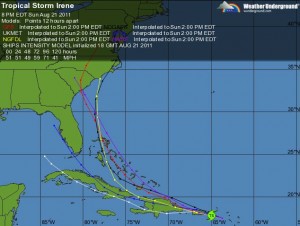 I don't want to put anyone too at ease, but does anyone else notice that only one of the computer models even touches Florida? Hmm. Don't stop praying, but also stay firmly planted in reality. We have authority over storms—and just because they put South Florida in the cone doesn't really mean anything at this point. We will see in the days ahead.
Share on Facebook