Hurricane Irene: In Which We Leave the Cone Behind
August 23, 2011, 8:17 am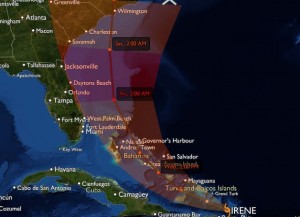 Since I last posted on Irene on Sunday evening, the track of the storm has moved steadily to the east. Yesterday evening South Florida was barely still in the Cone of Uncertainty. Today, South Florida is out of the cone.
There is a sense of relief when a storm's path shifts away from your region, especially when that storm has intensified so quickly and viciously. There is also a sense of thankfulness that God has given the keys of Kingdom authority to his people so that we can bring protection to our areas of influence.
The Lord recently spoke to us about watchtowers. He showed us watchtowers throughout our land, and that many of them were not manned very well. Those watchtowers not only provide insight, but intercessory protection for an area. When they do not have enough personnel manning them, an area or region is much more vulnerable to the effects of negative events such as Irene.
I mention this because Hurricane Irene is a major threat to the Bahamas and other parts of the United States east coast—And even though South Florida is out of the impact cone, we remember the Irene of 1999 and how it hit by surprise. So we still continue to use our authority to push this storm away from us. But as it passes our watchtower, the primary responsibility for this storm shifts to the geographical area under threat. We certainly join our prayers and our authority to any region under threat, but we are no longer primarily responsible. The watchtowers of that region become primarily responsible.
I once spoke to a prophetic mentor about this spiritual dynamic. My question was simple. If we successfully push a hurricane away from our area, doesn't that automatically target it somewhere else? If we look at the current situation, Irene was originally targeted for South Florida. Its energy and destructive force would have been spent on us, sparing points further north. Now that Irene has shifted to the east, many more areas are under threat of a major hurricane. You can see why I had the conversation with seasoned veteran of intercessory prayer. His response to me was simple and direct. He said, "I guess they had better learn to pray, too."
In essence, he was saying that they needed to man their watchtower. So, while storms like this certainly are a threat, they are also a training mission. They are an opportunity to grow in intercessory authority and confidence. God's purpose is to grow his Church into an intercessory army. That army is tasked to protect geographical areas from things such as hurricanes (or volcanoes, or earthquakes, or tsunamis, or diseases, etc.). If all of the watchtowers up the east coast of the United States are functioning efficiently, then we could expect to see Irene turn out to sea. Every watchtower, every region's Church, is responsible to build an intercessory hedge around their geographical region.
Can we turn every threat? I believe we can turn every threat unless it is God's purpose to release a cleansing judgment of some type. But I would never assume that a threat is intended as a cleansing judgment. I would want a clear word from the Lord on that (like we received through Rick Joyner about the 2005 hurricane season), and then I would still pray, trusting in God's mercy and grace to avert or greatly diminish the judgment anyway.
Irene is a major hurricane threat. While South Florida must continue to pray, other regions now bear more direct responsibility. We will join with them, holding up their arms and cheering as the storm continues to shift out to sea. Our goal must be that this storm churn harmlessly out to sea. And I haven't forgotten the Bahamas. They are in immediate danger. We must pray that the Irene's development is delayed until it is past them, also.
We are still in the opening days of the busy part of the hurricane season. We may have much more opportunity to flex our intercessory muscle. We must never weary of this task. Manning a watchtower is not easy, but it is definitely necessary. If Irene hits anywhere as a major hurricane, we will be reminded why.
Share on Facebook