Katia/Katrina
September 2, 2011, 7:25 am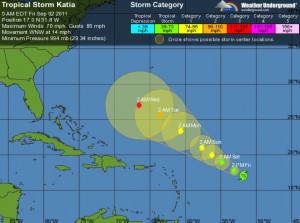 We aren't fooled by the name change. Katia is Katrina's new alias. When a storm does significant damage, a government can issue a request that its name be retired. Because of the damage Katrina did to the Gulf Coast in 2005, that request was made and its name was retired. Now we have Katia (No offense to anyone with the name Katia, but how do you get Kaht-Cha from that spelling?). Katia is Katrina's latest incarnation.
I only have two real comments on Katia. The first is that Katrina hit on August 29th, 2005. We are only a few days beyond that date, which reminds us that we are experiencing a very active hurricane season. In 1999, Hurricane Irene did not hit until October 15.
The second comment is really a prayer focus. While we do not know Katia's real direction yet (the computer models vary widely), I have a prophetic direction based upon something Bob Jones told me. Bob Jones, a prophet whom the Lord has given much information about hurricanes in the past years, told us earlier in the year that the Jacksonville area was under threat this year. So as we have held our hurricane prayer meetings this year, we have added prayers for Jacksonville's protection. While Katia may not threaten Jacksonville, it is worth praying for it by name because of Bob's warning. Of course, we can also extend our prayers to the entire coast line. I'm sure the good folks along the coastlines north and south of Jacksonville would appreciate the extra coverage.
———————————————-
Update: It is now Monday morning (Labor Day) and it appears that Katia is going to bend out to sea. Many folks have prayed that this would happen, and it appears that this is exactly what will happen—according to the National Hurricane Center's five day forecast. Notice in the graphic below that all the computer models now show the bend out to sea (the black line is the extrapolated direction based upon the motion for the last twelve hours, it is not really a computer model). This storm is still worth watching and praying over, but it does not appear to be a real threat to the United States coastline.
Share on Facebook