Filling Lake Okeechobee
October 17, 2011, 4:47 pm
On the evening of August 7, the evening that starts Yom Kippur (the Day of Atonement), the Lord told Dawn that we were going to hit a number of home runs at our meeting that night. When Dawn shared this with me, I knew that one of the home runs needed to be our prayer that Lake Okeechobee would fill up.
Lake Okeechobee is an important part of South Florida's water supply. We have been having problems with the lake's water levels, because the South Florida Water Management District and the Army Corp of Engineers will not let the lake fill to its normal level of eighteen feet above sea level. The Dikes and Levees surrounding the lake are so compromised and in need of repair (currently being done), that they will not allow the lake to get over fifteen feet above sea level. While this is an important safety measure, it creates a problem for South Florida's water supply.
Sometimes the dry seasons in South Florida are so dry, that Lake Okeechobee can drop four or five feet before the summer rains fall. When the lake drops below ten feet, we are in trouble. When it drops below nine feet, we are in big trouble, and water restrictions become draconian.
You will understand our need, then, when I report that as of October 1, Lake Okeechobee was at eleven feet above sea level. To make matters worse, our winter dry season has started weeks earlier than normal. Things were looking very bad.
In view of the negative outlook, I knew we must use our authority and pray that Lake Okeechobee would receive abundant amounts of rain quickly. The weather forecasters had stated that there was some sort of tropical disturbance over the Bahamas that would impact Florida on some level over Yom Kippur, so we decided to call it over Lake Okeechobee's watershed. I really wanted a home run. What would a home run look like? I didn't really know, but I was hoping we could get close to the twelve foot mark.
In retrospect, that would have only been a double. Yom Kippur turned out to be very wet as the tropical disturbance over the Bahamas did move over South Florida. We didn't realize how wet things were until the Sun-Sentinel published an article on Saturday calling the weather on October 8, Yom Kippur, a hundred year rain event.
Here are the important quotes from the article in the Sun-Sentinel:
The lake, South Florida's primary backup water supply, is expected to rise as much as 2 feet because of water draining in from storms in Central Florida . . . . Oct. 8 turned into the wettest day in nearly 100 years for areas near the Kissimmee River, which drains into Lake Okeechobee. Rainfall averaged about 6 inches across 3,000 square miles, with some areas getting as much as 14 inches.
I am already prepared to call this a home run, but I'm really not certain that is the only impact that our prayer has had. We are having a very wet and soggy day in South Florida because of another tropical disturbance some distance to our southwest. I saw the system developing near Mexico on Saturday, and made a mental note to call it in over Lake Okeechobee on Sunday. So, yesterday, we again prayed for rain over Lake Okeechobee and called this system to head toward our area. Today, for the first time, I saw the computer models for this system. As you can see from the graphic,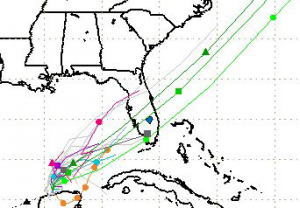 things could get a lot wetter before this system disappears. That can only help the lake's water levels. Most of the models put the system right over Lake Okeechobee's watershed on its way over Florida (Lake Okeechobee is marked in blue on the graphic). That would certainly help the lake's water levels and alleviate a lot of our concern about the dry season.
When you are playing baseball, home runs are beneficial and fun. When you are praying for rain which will help the people and economy of an area, a home run is a powerful reminder of God's mercy and the authority he has given his people in prayer. We've just hit one of those. Let's keep going after more.
Share on Facebook