Want A Straw With That Shake?
November 3, 2011, 3:05 pm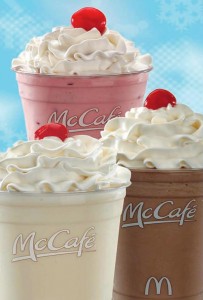 "Is the shaking over yet?," ask a myriad of voices across the globe. "Can we get back to normal?"
The answer, unfortunately, is, "No." I don't believe that things will ever get back to the normal we have experienced over the past several decades. I'm not saying that the United States and the world will not recover from the current mess in which we find ourselves. I am saying that when we do, we will be a wiser and more understanding people than when we started the shaking. As a result, we will never get back to the normals that marked the immediate past. But that is not a bad thing.
At the start of 2011, the Lord spoke to us in a variety of ways about the fact that he was about to shake things up.I wrote about something he shared with my wife, Dawn (you can read it HERE). He told her that he was about to shake things up, but that no harm would come near her tent. Those words from Psalm 91 are a key comfort for God's people whenever things are shaking.
Recently, the Lord spoke again on this topic. He shared the fact that there was going to be a lot more shaking, but then he said he was going to provide a lot of straws. That sounds a bit odd, until you realize that straws are needed in order to enjoy a good shake. The Lord often communicates with his people in the same way that he communicated to the Old Testament prophets. He used puns and word plays then, and he still does today. When he tells us that everything is going to shake, but he also wants to remind us that he will provide a prosperous path for his people to navigate the shaking, what better way than to flip the picture into something we all understand?
Many of us have ordered a chocolate shake at the drive through of a fast food restaurant, and discovered as we drove away, that the attendant had forgotten to provide straws. While we can still consume the shake, it is inconvenient and messy. The straws limit the mess, and enhance the experience in a good way.
I think that many of us have begun to grimace at the idea of the shaking which is upon us. We trust God to watch over his people and to protect us from harm, but we also don't like the idea of the inconvenience and mess that such shaking will release around us (and on us). This promise of a straw changes the picture radically. It reminds us that God is able to make a way, not only for us to survive, but actually to benefit from the shaking because of the grace and wisdom that he will provide.
This is an incredible picture of prosperity in the midst of shaking. I don't believe the Lord wants us merely to survive, but he wants us to grow strong in him and prosper so that we are able to help those who are in need. When he showed us this picture, he showed us many, many straws so that we would understand that there will be lots of grace for this no matter how much the world shakes.
I love when the Lord uses word pictures. It paints a picture that we understand and appreciate. From now on, whenever shaking happens, I'm going to be looking for the straws of opportunity that the Lord is releasing in the midst of the shaking. I hope you do too.
Share on Facebook