Prophetic Fulfillments on the Uptick
November 22, 2011, 12:14 pm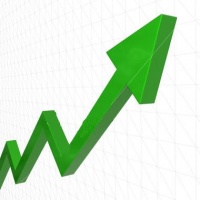 Earlier this year, a long time member of New Dawn congregation had a dream. In that dream she was pregnant, and it was the end of October. She knew she was supposed to have the baby in November, so even though the baby wanted to come, she was trying to make it to November.
That is a pretty simple dream. As she reminded me of it this past Sunday, it was apparent to me that the dream had been about what God was intending to birth at New Dawn during the month of November. We wanted things come sooner, but the Lord's plan was for November.
Tom and Mary Anne Hardiman helped us dedicate our new facility on the second weekend of November. We have been in the building since September, but we delayed the dedication until Tom and Mary Anne were able to make it to South Florida. Tom is the head of the MorningStar Fellowship of Churches, and Mary Anne is one of the elders of the MorningStar Fellowship of Ministries. As such, they are a significant part of our spiritual covering. The Lord clearly showed us that they needed to be involved in dedicating our new place of worship. We didn't know all the Lord's reasons, but it was apparent that they were here to help deliver the baby.
What is the baby? God is birthing things here that he has prophesied for years. We have seen prophecies fulfilled from 2002, 2004, and 2008 in just a week and a half. When you wait years to see a prophecy fulfilled, and then you see three significant ones fulfilled in a week and a half, you know God is up to something.
I'll take the prophecies in order. Back in 2002 Bob Jones (a prophetic mentor) prophesied about a particular healing angel that would be released to minister in our congregation. On Saturday of last week the Lord told me that the angel had arrived. Since I believe this angel is supposed to have immediate impact, I expected to have immediate confirmation as we prayed for people on Sunday that healing was being released on a higher level. We prayed for a lot of people on Sunday, but the prayer was for digestive and stomach issues. You can't instantaneously verify healing of the digestive tract since many issues are intermittent and take time to see if healing has taken place. However, a couple of our folks went to pray for a friend with a blood clot in her leg on Sunday afternoon. When they prayed for her swollen foot and ankle, the foot and ankle returned to normal size in front of their eyes. As they told me about it, they described the "whooping and hollering" that started taking place because of the obvious supernatural touch from God. I had expected to see confirmation of the angel's healing presence, and I wasn't disappointed. I believe Bob's prophecy is being fulfilled.
In 2004, the Lord spoke to me about Cuba. I have written about that in two different blog posts (you can read them HERE and HERE). What the Lord told me came to pass on November 10th. Check out those two articles for the details, but the point is, that long awaited prophecies are being fulfilled during this season.
The final one I will highlight (there is a lot more happening), is from 2008. This one is just a bit odd. Let me start by sharing what happened on Saturday afternoon. I came home from an event that I had been at, and as I drove in our driveway I saw that my wife, Dawn, was working around the house outside. It was a beautiful day, so I walked over by her just to enjoy the weather with her. As we talked, she told me that she had been stung by a bee.* The reason that she was telling me is that it did not have any effect on her arm. She showed me the spot she was stung, and it was only slightly red (and fading), and there was no swelling, though you could see the spot that the stinger had gone in. You can believe she was pretty happy about the lack of negative impact.
It was only later that she remembered that the Lord had spoken to her years ago about this event. He had told her that when she was stung by a bee, and it had no impact, that would be a sign that a particular word would be fulfilled. But she could not remember what it was all about. So we began our search of old journals to find out what this was all about. It took a couple hours, but we found the word from March, 2008. The Lord has told Dawn some things for our congregation that would be coming. When Dawn asked when, the Lord told her that it would happen when she was stung by a bee, but the sting would have no negative impact.
You just have to enjoy the Lord. His creative way of showing us things, and even the quirky stuff he chooses to communicate through, all highlight his personal attention to each individual. Dawn, like most people, absolutely loathes the idea of being stung by a bee or hornet. Her loathing has made her into a terror to the hornet population around our house. But the Lord was able to use this particular part of her personality to make an impression she would not forget when the event finally occurred.
So what had the Lord told Dawn that this event would signify? I can't get into details, but I can say that what he told her fits perfectly well with the healing angel being released to us. So we had one more prophetic confirmation that the Lord is doing something in this arena.
There are other things happening that demonstrate the birthing that is occurring. I wanted to share these things as an encouragement. The writer to the Hebrews taught us that "through faith and patience" we inherit the promises of the Kingdom (Hebrews 6:12). We have been patiently waiting for these particular things to happen. Now, their fulfillment is upon us.
—————————————————-
*At first Dawn didn't quite know what stung her, a hornet or a bee. She knew it was dark like a hornet, but it looked odd to her. We later saw that there were carpenter bees at the place she was stung. They are a darker colored bee.
Share on Facebook