Watch the Northwest
December 30, 2011, 1:38 pm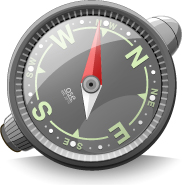 Last week, while the Lord was speaking to Dawn, my wife, about some of the things that we should be aware of in 2012 (or in the near future beyond 2012), she saw a vision of a compass dropping down in front of her. She knew that the Lord was telling her to watch the Northwest United States. Since the Lord was speaking to her about things that could shake, we assumed it meant that we would see some level of shaking there in the coming year.
When the Lord tells us to watch something, we do just that. We pay close attention to what is currently happening in that place, and we ask that the Lord release more revelation and understanding. If the Lord has mentioned shaking, we understand that mercy triumphs over judgment (James 2:13). So we pray for shock absorbers for all the people that live in the area, and especially for his people who live there.
This week, the Lord gave me two dreams on the same night that directed my attention Northwest. In the first dream, I saw a friend of mine from Washington state drive his vehicle onto a highway that we all were waiting to get on. I believe that the highway represented the highway into 2012 and beyond. Streams of cars were getting on this highway, and I was waiting to get on the highway. My friend began his trip several hours ahead of me. As I approached the highway, I saw some police officers, so I asked them about the road. They told me there was a major problem a couple hours up the road. I instantly knew that my friend would be drawing near the problem, and that I needed to call him to warn him about it.
This first dream is pretty self-evident. As we all prepare to launch into our 2012 destinies, some of us will get to significant events, and even major problems, ahead of the majority. Those who first encounter the problems will teach the rest of us about the types of things we could encounter on the road ahead. However, even those who encounter the problems first can have warning. I believe the police officers represent the spiritual authorities of the Kingdom of God who have advance information and are willing to share it with us. When we get the information, we pass it along to those who need it.
So, from Dawn's experience and my dream, I can share this insight: We need to watch the Northwest, and pray for it, because there is going to be a major problem that will teach us about the types of things we can expect as we advance into 2012. We also can alert folks in the Northwest to step into a heightened state of intercessory alert so that they are able to handle whatever is coming their way.
So what kind of problem could be coming to the Northwest? The same night I had the first dream about my friend from Washington state, I also had a second. In the second dream, I was in the state of Washington. I knew a severe storm was coming. In fact, the atmosphere felt like the atmosphere we experience in Florida before a threatening hurricane makes landfall. At one point in this dream, I saw the storm coming across a large bay from another populated area. It was dark and foreboding, and I knew it would be at our location within the hour. At that point, I checked out the house I was going to shelter in. By south Florida standards, the house was ill-prepared to weather the storm. Instead of the concrete, block, and stucco construction that enables us to withstand high winds, the house was a frame house that appeared a little dilapidated. As I took shelter in the basement, I noted that the basement was not secure against the high winds and moisture that I expected. When I listened to the weather report, I learned that the storm had become a category three storm (a major hurricane). As I listened to the report, I realized that it would be a lot safer to stay in the house of the same friend that I had seen in the previous dream. However, I knew he was not home and had not put his shutters up, because the storm was unexpected.
I believe these dreams, and Dawn's experience, are about a storm coming to Washington state and its vicinity. I am not suggesting that it is a literal hurricane, since water temperatures are too cold for tropical systems. However, the Lord has spoken to me about weather events in the past. Since I live in South Florida, it makes sense he would speak to me in terms I can understand. When a hurricane becomes a category 3 storm, they call it a major hurricane because its winds are between 111 and 130 mph. Winds of that speed do major damage. So, even if the dream is not about a weather event, it is still highlighting a major problem on the road ahead.
One thing I did not mention about the dream may indicate that this is about a weather event. When I was checking out the basement of the house I would be sheltering in, I noted that the basement windows had been replaced by the working end of thin, flimsy, snow shovels. I was a bit disgusted in the dream because I knew that the shovels would provide inadequate protection for what was coming. These shovels could be an interpretative key. They may show us that the problem is a major winter storm.
This would not be the first major winter storm that the Lord has spoken to us about. Back in the summer of 2000, the Lord showed us that a terrible storm was coming to the Mid-Atlantic states. He showed us it would be a Perfect Storm scenario (three storms coming together). He also told us that he could not find anyone to pray about it. I began to share this information with folks who lived in the Mid-Atlantic, but everyone, and I mean everyone, I shared it with, did not believe it referred to a real storm. They thought it symbolized something. So I shared the information with our South Florida congregation, and we began to pray against a perfect storm in the Mid-Atlantic states. We experienced supernatural encounters and confirmations along the way, so we kept praying. Eventually we got to March, 2001. The weather forecasters began to forecast a perfect storm scenario in the Mid-Atlantic for March 5. On March 2, 2001 they began to call it the storm of the century as three systems targeted it. Several governors shut down their states for the expected storm on March 5th. But, embarrassingly, nothing happened. The March 6th, 2001 USA Today called it the Imperfect Storm because it missed. I happen to know why it missed. The Lord found someone to pray.
Now, back to Washington state. I know a storm is approaching, and that it is bringing major problems, but I'm not absolutely certain it's winter weather, though it could be. Whatever the storm is, they need our help. I have alerted some of the folks there that it is time to pray over a quickly approaching problem. This blog post is intended to alert even more intercessors. This is advance warning so that the Church is able to get it shutters in place. Shutters represent intercessory authority that brings protection to the people of an area. We have been given keys to open and shut (shutters). When things hit us by surprise, we do not have enough time to get the shutters up. The Lord spoke to us about 1999's Hurricane Irene in 1998 so that we would have enough time to get the shutters up (you can read about that HERE). He spoke to us about the Perfect Storm of 2001 in the summer of 2000 so that we would have time to get the shutters up. He is now giving advance notice of a fast approaching problem so that we can get the shutters up.
We must keep prayer watch over the Northwest at this time. Not only so that we can provide shock absorbers for those who must go through this particular shaking, but also because we will learn about what we can expect in the near future for other parts of the United States. Watching includes praying, and it includes learning from what we see.
Watch the Northwest.
Share on Facebook