Are We Done Watching the Northwest Yet?
January 20, 2012, 1:20 pm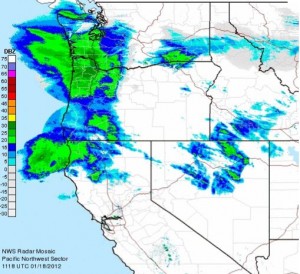 Many of you who read my previous post on the Northwest (Watch the Northwest) have contacted me to ask if I believed that the storm that hit the Pacific Northwest this week was the storm that the Lord had warned us about. Those of you who were watching the Northwest recognized that something was up when forecasters began to use superlatives to describe the approaching storm earlier in the week. Then, when the storm hit and pummeled the region and we began to understand the ferocity of it, it looked more and more like this was the event that the Lord had spoken to us about. Was it?
Well, we should first understand how this storm impacted the area? I'll quote the Toronto Sun:
SEATTLE – A historic snow and ice storm paralyzed Seattle on Thursday, shutting the airport and schools, causing car crashes, downing trees and cutting power to at least 90,000 households as blown-out transformers lit up the skies.

The National Weather Service declared an ice storm warning early on Thursday through noon local time for eight western Washington counties.

Record-setting daily snowfall of 6.8 inches was measured early Thursday at Seattle-Tacoma International Airport, shattering the previous record of 2.9 inches in 1954, said meteorologist Dan DePodwin on Accuweather.com.

As a result of the storm which arrived on Tuesday evening and was nicknamed "Snowmageddon," the airport remained closed with its three runways and ramps coated with ice.
Weather.com added this insight:
Parts of two states are under states of emergency after a powerful, deadly storm brought heavy snow and ice to western Washington and torrential rain to parts of Oregon.

Since Wednesday, portions of Washington State have been hammered by winter weather. First came the snow, then the freezing rain, which left cities, including Seattle, slick and dangerous. The governor declared the hardest-hit areas under the emergency declaration around mid-day.

Puget Sound Energy company says 200,000 customers had lost power as of Thursday night. According to a statement on the utility's website, Puget Sound Energy "Can't make full estimate of how long the restoration effort could take … we think it will be three to four days, maybe longer."
Yes, I would say that this is definitely part of what the Lord showed us for the Pacific Northwest. He showed us that a storm was coming and that it would be a major storm. When I wrote about it on December 30, I left the door open for something other than a weather event, though indications were that it would be a weather event. We also knew that it would happen fairly soon. I don't know if what has happened so far is the totality of what the Lord was showing Dawn and I in our first two dreams and experiences (please reread Watch the Northwest to understand what I am referring to), but I do believe it fulfills the most obvious parts of what I saw and wrote about in the final dream.
One of the reasons that I wrote my previous post was to stir up intercession for the Northwest. I know that intercessors from the Seattle and Tacoma areas responded to the call. I also know that intercessors across the region and nation added their prayers. The Watch the Northwest article has been the most read article I have had on my blog. Thousands and thousands of people read the article, and many let me know they were praying. I wrote the article to stir up prayer for the Northwest, and I am gratified that so many people responded.
Since I know that prayers have authority, I can tell you that the storm was not as severe as it could have been. When I alerted the friends whom I had dreamed about in Washington state, they shared that they were already praying against negative weather patterns. They then took the alert I issued to heart and prayed with more focus. As a result, I was not surprised that the Seattle-Tacoma area (where they live) was not hit as hard as had been forecast. At the last minute one of the Low pressure areas dropped a bit further south than expected, and forced the worst weather just to the south of their area. I don't believe that was an accident. I believe that was a sign of their intercessory authority.
Because of this shift to the south, the worst winds also shifted south. The Seattle Times reported that "Winds gusting as high as 110 mph hammered parts of the Oregon coast Wednesday, knocking down trees, causing power outages and disrupting traffic." When the Lord spoke to me about this storm, he showed me that it would be a major storm. He used the image of a category three hurricane to convey that to me. I really didn't expect to see sustained wind speeds of a category three hurricane, since I believed he was emphasizing that it was a major winter storm, not a tropical wind storm. However, the wind certainly played a part in this storm, and caused disruptions along the Oregon coast. Again, the intercessors and intercession was important. When the Lord first spoke to us about 1999's Hurricane Irene, he showed us that it would be a high category four/low category five hurricane. As intercessors throughout our county prayed, the Lord let us know that our prayers were having an impact on the wind speeds. When the storm did hit us, as he showed us that it would for over a year, it was a low level category one storm (You can read about it HERE). I have no doubt that prayer also did a lot to protect the Pacific Northwest from the winds of this storm.
So, I'm going to continue to "watch" the Northwest, because I believe I have some more things to learn from this watching. The Lord has showed us a lot about what is coming for the rest of us through this event. I will be writing more about that in the future. For now, be aware that we can all expect to see record breaking weather this year. That is the import of the first dream I had about waiting to get on the highway. My friends in the Northwest were going to experience something before the rest of us did, but we are all heading in the same direction. They have just experienced a record breaking weather event that is continuing to have negative impact. The rest of us can expect to see some pretty bad weather throughout 2012.
But we can also expect our prayers to have an impact if we will pray. The intercession did not stop the storm, but it did diminish the impact, especially in the area that my friends live. They got the shutters of prayer up and were able to protect their immediate area of influence.
So, while the bad news is that we may not be able to stop all the bad weather, the good news is that we can raise a hedge around our areas of influence. We are overcomers. We are not victims. Even when the Lord is the one releasing a particular shaking, he has given us authority to cover our areas of influence with mercy. That is really good news.
Are we done watching the Northwest? Stay tuned. God is still speaking.
——————————————————–
Some folks who have wanted to subscribe to this site have been stymied by the RSS feed not working. So I have added an email subscribe option below. Just add your email address and click subscribe. You will receive an email whenever I publish an article.
Share on Facebook