Storming the Walls
February 29, 2012, 1:57 pm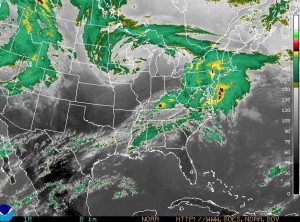 The ferocious storms that tore through the Midwest on Tuesday evening and Wednesday morning have left at least nine people dead in Kansas and southern Illinois. Six deaths have been reported in Harrisburg, Illinois, and another hundred people were reported injured by a suspected tornado. At least two hundred homes were damaged or destroyed. Towns in Missouri and Kansas were also hit hard.
The Lord has graciously given us warning of the type of weather that we can expect this year. We need to be storming the walls of heaven in prayer, even as the storms attempt to tear walls down on earth. If you have not read Watch the Northwest, and Are We Done Watching the Northwest Yet? it would be a good time to do so. These posts give the background information about how the Lord spoke to us about severe weather outbreaks this year, a bit about what we can expect as the year progresses, and the important role that our prayers must take as we ask for God's protection for those in harm's way.
We are entering into the busy season for spring storms. Please pray for your area, and for those in harms way as the season progresses.
——————————————————–
Some folks who have wanted to subscribe to this site have been stymied by the RSS feed not working. So I have added an email subscribe option below. Just add your email address and click subscribe. You will receive an email whenever I publish an article. Your emails will be used for no other purpose.
Share on Facebook