Hurricane Irma Prayer Thoughts
September 5, 2017, 12:38 pm
Randal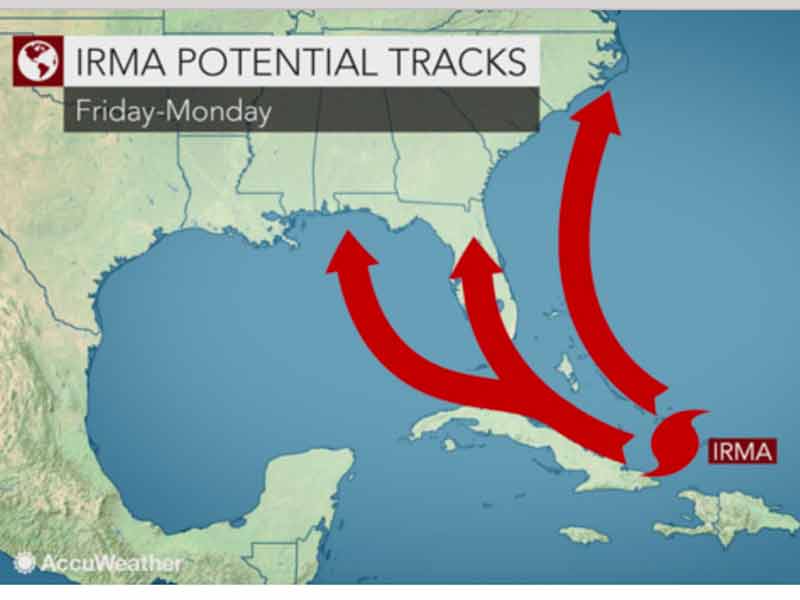 As one can see from the graphic, Irma hasn't made up her mind yet. That hasn't helped anyone's peace of mind. Even though the storm will not be near Florida until the weekend, hurricane supplies are flying off store shelves, people are fleeing the area to other states, events are being cancelled left and right, and builder supply stores are filling up with people desperate for the last piece of plywood. And one can also feel the palpable undercurrent of fear. I suspect that Harvey's impact has certainly exacerbated the normal tension. In addition, Irma's strength combined with her uncertain path has driven some from understandable anxiety, over into irrational fear or panic. That helps no one.
Take a deep breath. Turn off the weather reports, and get focused on the one who is greater than the storms. Of course, we have to make our normal preparations, but by this late in the hurricane season, South Floridians have been prepared for months, and the only thing to do now is the "top-off-the-supplies" things.
Oh, and we also need to pray. I have been contacted by many people asking if the Lord has given us anything about this storm. For those who are new to this blog, my congregation has an almost twenty-year history of stirring up prayer against storms like this, and building faith to pray against any storm that threatens our area. When Jesus walked on the earth with his disciples, he taught that he was going to give his Church the Keys of the Kingdom of Heaven (see Matthew 16:19). Keys give one authority, but it is an authority we use in faith, and works most effectively through agreement. For those who are new to the topic, you might want to download my book (Amazon Link ) or read these posts to become acquainted with the topic (Joaquin, Turning Away Hurricanes).
Has the Lord shown us anything? He gave us an encouraging picture just yesterday; it was a picture of a series of gates closing. For those who understand that the Keys of the Kingdom open and shut doors (or gates, in this case), that indicates that our prayers are having an effect. We want the gates shut to this storm. However, what that means for me practically, is that I can walk a bit more peacefully, even as I complete my personal and congregational preparations for any hurricane strikes. It means it gives me a picture to latch on to as I pray with my congregation about this storm. Using the Keys, I will command all the gates through which this hurricane can enter to close (that is how you pray with the Keys). I will also continue to ask, seek, and knock on the doors of heaven asking for the Lord to intervene at every turn (that is normal prayer). In that way, we cover our bases of prayer, and pray in the way in which Jesus taught Christians to pray.
As I look at Irma's potential paths, I can see one that gives it a chance to spin harmlessly out into the Atlantic. Obviously, for the next several days I will be praying that the storm diminishes in strength, and that it spins out to sea. I will also be praying for the islands that are currently in its path. They need our prayers as the threat for them is imminent.
If I get anything else helpful, I will update this blog as I can. Time to Pray, Prepare, and Praise: Pray it away; Prepare responsibly; and Praise when it is past.
——————————————————–
Update/Wed Sept. 6th: It appears that the comments that have come in are not appearing for this article. It is a glitch of some sort. My apologies to those who have sent comments.
——————————————————–
Subscription Notice: I have found that the most dependable way of notifying subscribers of a new post is through email. So I have added an email subscribe option below. Just add your email address and click subscribe (you will receive an email asking you to confirm your subscription—so check your spam folders if you don't). You will receive an email alert whenever I publish an article. Your emails will be used for no other purpose.
Images credit: Accuweather.com
Share on Facebook