A Translation of Ephesians 6
July 24, 2017, 7:00 am
Randal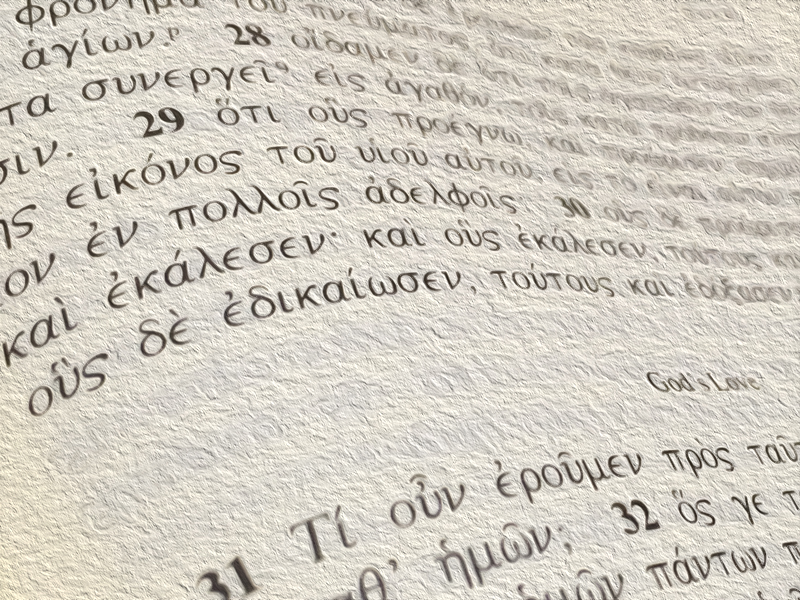 "For our fight is not against flesh and blood, but it is against the rulers, the authorities, the spiritual world rulers of this darkness, and against the evil spiritual beings in the heavenly realms." (Ephesians 6:12)
The truth contained in this passage divides the world. There are those who say that there is no spirit realm, and there are those who accept that realm as obvious. For those who believe there is nothing beyond what our five senses can perceive, this passage appears inscrutable. But to those who have grown in spiritual discernment, and understand more fully how the unseen world impacts that which can be seen, this passage states simple truth.
In the verse just before this, Paul has called on his readers to put on the full armor of God. The armor of God is not intended to be wielded against human adversaries. There are certainly human adversaries that may oppose God's plans on earth, but they are not the focus. We respond to human adversaries with the tools of truth and love. But the armor of which Paul speaks is for spiritual warfare; it is about responding to the ones who dwell in the unseen realm, the realm of the spirit.
In the framework of Paul's understanding, there was a first heaven, where humans dwell; a second heaven, where fallen angels had their abode; and the third heaven, where the Lord and his angels reside. The armor of God is to defend against, and oppose the plans of the miscreants who inhabit the second heaven.
There are people on this earth who accept the reality of the first heaven, and that is all they accept. There are those who accept the first and third heavens, but try not to think about wicked forces that oppose us from another realm. And there are those who, as Paul, accept the reality of all three realms.
Accepting the reality of the three realms doesn't mean one blames the devil for everything; it merely receives Paul's advice and remembers that those who follow Christ will have active opposition to their walk from outside of the first heaven. The solution isn't to focus on the dark side. On the contrary, the full armor of God is about being even more determined to walk in God's things, and his purposes. The armor, as we see in verses 14-18 includes moral choices, ethical responses, the stability found in seeking God's peace at all times, and the basic responses of faith and prayer in all situations. So while Christians recognize the spirit realm, and the forces arrayed there, they most often oppose those forces by basic Christian living and focus on the Lord. Another way of saying this, is that they love the Lord their God with all their heart, and they love their neighbor as themselves.
Now, on to the translation of Ephesians 6.
Ephesians 6:1-24
A Translation by Randal Cutter
6:1  Children, obey your parents in the Lord, for this is righteous.*
6:2  Honor your father and mother, which is the first commandment with a promise,
6:3  that is may be well with you, you will live a long time on the earth.
6:4  And fathers, do not make your children angry, but raise them with the training and understanding of the Lord.
6:5  Slaves, obey your human masters with respect approaching fear, with sincerity of your heart as to Christ.
6:6  Don't just look the part, as those who try to gain favor with men, but as slaves of Christ doing the will of God from the heart.
6:7  Serve with goodwill as serving the Lord and not men,
6:8   knowing that whatever good anyone might do, he will receive this back from the Lord, whether he is slave or free.*
6:9  And masters, do the same things with them, abandoning threats, knowing that your Master and theirs is in heaven, and he does not show favoritism.
6:10  Finally, be empowered by the Lord and by the might of his strength.
6:11  Put on the full armor of God, with which you are able to stand against the crafty scheming of the adversary.
6:12  For our fight is not against flesh and blood, but it is against the rulers, the authorities, the spiritual world rulers of this darkness, and against the evil spiritual beings in the heavenly realms.
6:13  Therefore, take up the full armor of God, so that you are able to put up a fight on the day of trouble;* and when you have done everything to thoroughly prepare yourself,* make your stand.
6:14  Therefore, take your stand, having wrapped* your sexual life in truth,* and putting on the body armor of righteousness.
6:15  Fasten the readiness of the gospel of peace to your feet;
6:16  and in addition to everything else, take up the shield of faith, with which you are able to quench all the flaming arrows of the evil one.
6:17  Take also the helmet of salvation, and the sword of the Spirit, which is the word of God.*
6:18  Pray at all times in the Spirit with every type of prayer and petition. To this end, keep watch with all diligence, and pray on behalf of all the saints.
6:19  Pray on my behalf that a message might be given to me when I open my mouth, to boldly make known the mystery of the gospel,
6:20  for which I am an ambassador in chains.* Pray in order that I might speak clearly; that is essential when I speak.
6:21  Now Tychicus will tell you everything, so that you might know how things are with me, and what I am doing. He is my beloved brother and faithful servant in the Lord.
6:22  I am sending him to you for this very reason, that you might know about us, and that he might encourage your hearts.
6:23  Peace to the brothers, and love with faith, from God our Father, and the Lord Jesus Christ.
6:24  Grace be with all those who love our Lord Jesus Christ with an eternal love.
——————————————————————
6:1  For this is righteous: Although we are most familiar with the translation, "this is right" (NIV, KJV), the Greek word used (dikaios) is a word which also means "just" or "righteous." I believe, especially since Paul quotes God's command in just a moment, he is not just speaking about what is proper or right, but rather he is clearly stating that it is a manifestation of a relationship with God, which is what righteous implies.
6:8  Whether he is slave or free: With these words, Paul shows us that those who are free, meaning employees instead of slaves, should observe these same words of direction in reference to their relationship with their employers.
6:13  The day of trouble: As in 5:16, most versions follow the lead of the KJV and translate that the days are evil. However, the Greek word I have translated "trouble" is a moral/ethical word when applied to people, but simply describes harmful, rotten, or useless things when not applied to humans. A day does not have the capacity to have moral or ethical thought, but it can certainly be a day of trouble or harm.
6:13  And when you have done everything to thoroughly prepare yourself: The Greek verb refers to equipping oneself, or preparing oneself. I have made that very clear, since preparation is what is in focus.
6:14  Having wrapped: This is what Paul most literally says. It is what the Greek phrase means. While the NIV and newer translations often assume Paul is speaking about the outer belt of the Roman soldier, he is actually referring to the Roman soldier's clothing under the armor. That clothing needed to be wrapped tightly under and around the bottom of the torso in order that a Roman soldier had no loose clothing that an enemy could get a grip on.
6:14  Your sexual life: The Greek noun often refers to the sexual organs, or more even more specifically, the genitalia or reproductive organs. I have translated to capture the specific sense, without being overly specific or vulgar in the translation.
6:17  The word of God: The normal Greek word translated "word" is logos. However, rhema is used here. Rhema is the word that Jesus used when he told Satan, "Man does not live on bread alone, but every word . . . ." He was quoting Deutronomy 8:3, where Moses reminds the Israelites about the "word of God," by which he meant the supernatural provision of God. The rhema is the "Let there be . . ." of God.
6:20  An ambassador in chains: The Greek expression is more literally, "an ambassador in chain." The noun is singular, but while the Greek mind saw the whole chain, and thus used the singular, our English speaking minds see the individual links and must translate "chains."
——————————————————–
Subscription Notice: I have found that the most dependable way of notifying subscribers of a new post is through email. So I have added an email subscribe option below. Just add your email address and click subscribe (you will receive an email asking you to confirm your subscription—so check your spam folders if you don't). You will receive an email alert whenever I publish an article. Your emails will be used for no other purpose.
Image credit: Bible by Randal Cutter/iPhone 6s/Photoshop Oil Paint Filter
Share on Facebook