A Translation of Ephesians 4
July 12, 2017, 6:02 am
Randal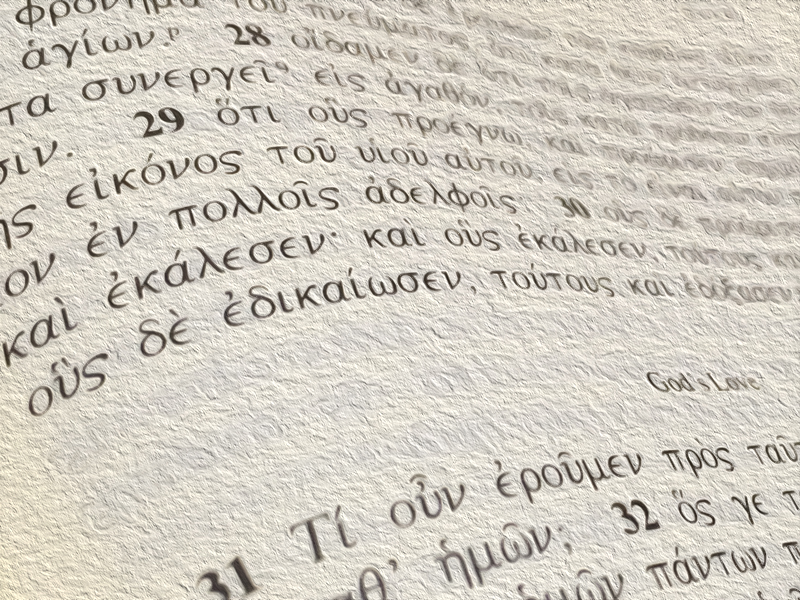 "In him the entire body is fitted and joined together as each ligament provides support, and each part contributes to make the body grow according to its measure of energy, so that the body builds itself up in love." (Ephesians 4:16)
In the passage above, Paul paints an incredible picture of how the Christian Church is to work. Each part of the church, in all of its myriad expressions, has been fitted and joined together like a functioning body. Like a physical body, each part of the Christian body is supported by the other parts. In addition, each part of the body is given a measure of divine energy to release to the rest of the body so that the whole body continues to grow. That divine energy is what sets the Christian Church apart from every other club or organization. God's supernatural power, his divine energy, flows freely from one part of the body to another to stimulate growth, and provide power.
This is an incredible picture of power and life. But unfortunately, that picture is not often realized today. Perhaps it is because we have lost our vision; we have let our sense of expectation fade away; or perhaps we refuse to believe that God would release divine energy from other parts of the body.
Whatever the reason, we must get this expectation back into the Body of Christ. When Paul wrote about that energy, he wrote with a sense of wonder and possibility. It isn't necessarily that the Body of Christ then had more agreement than we do now. Just read some of the arguments and disagreements that the early church experienced. But what they did have was expectation. They expected divine energy to flow through them and to them no matter how imperfect the church itself was. And it did flow. As we read the reports of the extraordinary miracles that God worked through Paul and his companions, and as we see the clear direction they received from the Lord as they shared his life, we see the wonder and possibility of the divine energy played out in gritty supernatural detail in that less-than-perfect church setting.
We desperately need that same expectation that God's divine energy will flow through imperfect vessels to a world in need. One reason that I have translated Ephesians 4:16 as I have, is to begin to help recover Paul's focus on the divine energy available to us. The Greek word I have translated "energy" refers to the divine energy that is released through God's people when we are functioning as we should. It is a word that doesn't just speak of the "working" of the Body of Christ, but points to the divine energy that is released in the body so that it grows. It is a word that speaks to wonder and possibility, and leads to expectation.
What our your expectations for today? Are they filled with wonder and possiblity? If they are not, remind yourself that divine energy is at work around you and through you in the Body of Christ. This energy is the stuff of creation and resurrection. It is the stuff of life and hope. Knowing this, we can never let our sense of wonder fade; the next amazing thing may be just around the corner.
Now, on to the translation of Ephesians 4.
Ephesians 4:1-32
A Translation by Randal Cutter
4:1  Therefore, I encourage you, as a prisoner for the Lord, to walk in a manner worthy of the calling which you have been given.
4:2  Walk with all humility, gentleness, and patience, putting up* with each other in love;
4:3  being diligent to keep the unity of the Spirit within the constraints of peace.*
4:4  There is one body and one Spirit, just as also you were called in one hope to your calling;*
4:5  one Lord, one faith, one baptism,
4:6  one God and Father of all, who is over all, through all, and in all.
4:7  Now to each one of us grace has been given corresponding to the measure of the gift of Christ.
4:8  Therefore, it says, "When he ascended to the heights, he took many captives with him, and gave gifts to men."
4:9  For what does, "He ascended" mean, if not that he also descended unto lowest parts of the earth?
4:10  The one who himself descended is also the one who ascended far above all the heavens, in order that he might fill all things.
4:11  At that time, he himself gave some for apostles, others for prophets, evangelists, pastors, and teachers,
4:12  to equip the saints for the work of ministry so that the Body of Christ is built up.
4:13  This will continue until we all achieve the unity of the faith and the knowledge of the Son of God, becoming a fully mature adult, attaining the measure of maturity that comes with the fullness of Christ.
4:14  We must become fully mature adults so that we are no longer tossed back and forth in the waves like infants, carried about like babies by every wind of teaching that comes from the games of men,* which they play with cunning and crafty deceptions.
4:15  Then, proclaiming the truth in love, we will grow in all things into him who is our head, Christ.
4:16  In him the entire body is fitted and joined together as each ligament provides support, and each part contributes to make the body grow according to its measure of energy,* so that the body builds itself up in love.
4:17  Therefore, I say—and I affirm this in the Lord—that you must no longer walk in the way that the Gentiles walk, in the futility of their thinking.
4:18  They are darkened in their understanding, and excluded from the life of God, because of their inner ignorance caused by their hardness of heart.
4:19  Because they have lost the ability to feel shame, they have given themselves over to sensual excess, to the practice of every sordid activity as they sexually exploit* each other.
4:20  But you did not become acquainted with the Christ in that way,
4:21  For surely you have truly come to know him, and have been taught by him, because truth is in Jesus.
4:22  You were taught, with respect to your former way of life, to put away the old man, which was being morally corrupted through enticing lusts,
4:23  and to be renewed in your mind by the Spirit,
4:24  and to put on the new man, created for God in righteousness and true holiness.
4:25  Therefore, because you have put away the lying nature, each of you must speak truth to his neighbor, for we are members of each other.
4:26   When you are angry, do not sin. Do not let the sun set while you are incensed;
4:27  do not give the accuser space to operate.
4:28  Anyone who is stealing, must steal no longer, rather he must do good, toiling at a job with his hands, in order that he might share with those in need.
4:29  Let no harmful speech come out of your mouth, but only what is good for building up according to the need at hand, in order that it might release grace to those who are listening.
4:30  Also, do not grieve the Holy Spirit of God, by whom you were sealed unto the day of redemption;
4:31  let all bitterness, violent emotion, anger, uproar, and slander be taken from you, along with every hateful feeling.
4:32  Instead, be kind and compassionate to each other, being gracious with each other, just as also God was gracious to you in Christ.
——————————————————————
4:2  Putting up with each other in love: While "bearing with each other" is a good translation of this Greek verb, "putting up with each other" captures our way of saying it a bit more fully.
4:3  Constraints of peace: The Greek word translated "constraints," is a word which refers to bindings or things that tie things together. Many translations use the word "bonds," which is certainly appropriate when one thinks of a bond as that which restrains. However, the word "bond" has come to mean "relationship" in the English language, and thus has lost the key focus of this verse. I have translated as "constraints" to bring out the original intent of the word as a constraint or limitation.
4:4  Called in one hope to your calling: Translations handle this phrase in different ways (NIV: just as you were called to one hope when you were called"/NASB: "just as also you were called in one hope of your calling"). I have translated that bring out the idea that the hope comes with our callings to ministry in Christ, not just our calling to faith.
4:14  The games of men: The Greek noun literally refers to a dice game. As those who throw dice attempt to influence the outcome by manipulating the throw, so manipulation is often used as a form of deceitful control.
4:16  Measure of energy: Most other translations ignore the main meaning of the word I have translated "energy" (energeia). This word most often refers to supernatural energy, and reminds us that as each part of the body uses its spiritual gifts, supernatural energy is provided to the whole body so that its work might be accomplished.
4:19  Sexually exploit: Paul's word choice is graphic. The greed of which he speaks is sexual greed and exploitation. I have translated in a more graphic way than normal to accurately capture his very pointed thoughts.
——————————————————–
Subscription Notice: I have found that the most dependable way of notifying subscribers of a new post is through email. So I have added an email subscribe option below. Just add your email address and click subscribe (you will receive an email asking you to confirm your subscription—so check your spam folders if you don't). You will receive an email alert whenever I publish an article. Your emails will be used for no other purpose.
Image credit: Bible by Randal Cutter/iPhone 6s/Photoshop Oil Paint Filter
Share on Facebook