A Translation of Ephesians 3
July 3, 2017, 6:30 am
Randal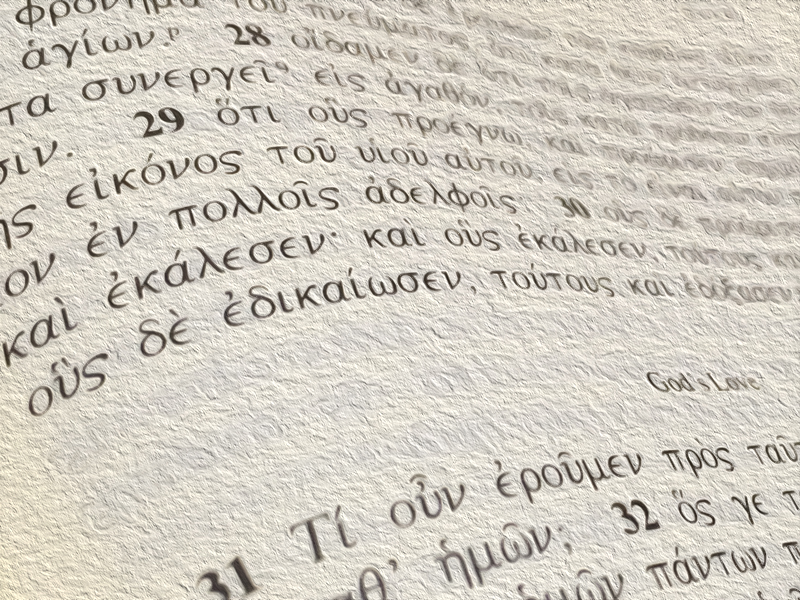 "For surely you have heard of the provision of God's grace that was given to me for you . . ." (Ephesians 3:2)
When I think of God's provision, I often think of all that is necessary to keep body and soul together, as well as those items that are necessary to function in a given society. When I pray for provision, it is usually about that which is needed to keep the lights on, the bills paid, and food on the table. I believe that is where most of us live.
Obviously, there are other provisions of grace that God gives to his people. When Paul spoke of God's provision, he spoke about his calling in such a way that highlights that he was God's provision to the Ephesians. God called and equipped Paul as a form of spiritual provision to the people to whom Paul wrote. That, of course, includes every person who has ever read Paul's letters. He is a part of God's provision for us so that we better understand God's mysteries in Christ.
I am rather in awe of the fact that the Lord made provision for me almost two thousand years ago when he called a man named Saul from a vindictive path to one of grace. In reality, the provision of grace far exceeds that which I am able to comprehend. Can we even imagine the amount of provision that God has poured out through the millennia on our behalf? Because of how far the gospel has travelled, many of us have had righteous ancestors whose sacrificial lives and effective prayers may have been used by God to establish our callings. We will not truly understand such things until we are with them before the Lord.
Verse two reminds me of something else. Every Christian teacher I have been privileged to have has received a provision of God's grace so that he or she could touch my life with the calling God granted him or her. I don't even remember the names of all these teachers, and yet God's provision to them in their calling has also been God's provision to me. I am thankful that they were faithful with their callings. I have been blessed and received spiritual provision through them. Like them, I also wish to use God's provision of grace in my calling in the best possible way for those to whom I am a part of God's provision. I believe we honor God when we do that, and express our thanks to all those who have been our provision.
Now, on to the translation of Ephesians 3.
Ephesians 3:1-21
A Translation by Randal Cutter
3:1  For this reason, I Paul, the prisoner of Christ Jesus on behalf of the Gentiles—*
3:2  For surely you have heard of the provision of God's grace that was given to me for you,
3:3  that according to revelation the mystery was made known to me, just as I have written about previously in a brief fashion.
3:4  By reading about this, you can understand my knowledge of the mystery of Christ,
3:5  which was not made known in other generations to the sons of men* as it has now been revealed by the Spirit to his holy apostles and prophets.
3:6  That mystery is that through the good news the Gentiles are joint heirs, fellow members of one body, and share in the promises in Christ Jesus,*
3:7  of which I became a servant through the gift of the grace of God which was given to me, in accord with the working of his power.
3:8  This grace was given to me, the least of all the saints, to preach the good news of the incomprehensible riches of Christ to the Gentiles;
3:9  and to bring to light for everyone the details of this mystery which was hidden for ages in the God who created all things.
3:10  He did this in order that the manifold wisdom of God might be made known now to the rulers and the authorities in the heavenly places through the Church,
3:11  in accord with the eternal purpose which he performed in Christ Jesus our Lord,
3:12  in whom we have boldness and confident access through faith in him.
3:13  On account of this, I ask you not to be discouraged over my tribulations on your behalf, which are your glory.
3:14  For this reason I bend my knees to the Father,
3:15  for whom every family in heaven and on earth is named,
3:16  asking, in accord with the riches of his glory, that he might grant that you be strengthened with power through his Spirit in your inner man,
3:17  so that Christ dwell in your hearts through faith; and having been rooted and established in love,
3:18  I also pray that you might be able to fully comprehend, along with all the saints, what is the breadth, length, height, and depth of it,
3:19  and that you know the love of Christ that surpasses knowledge; and I also pray that you might be filled with all the fullness of God.*
3:20  Now to the one who is able to do abundantly above all things that we could ask or think, through his power at work in us,
3:21  to him be the glory in the Church, and in Christ Jesus, unto all the generations, forever and ever. Amen.
——————————————————————
3:1  The dash indicates a break in Paul's thought process. He picks up his thought in verse 14. Verses 2-13 are an excursus about Paul's calling.
3:5  sons of men: Many modern translations render this phrase as "men," dropping the "sons of." I have kept the entire phrase because it is a phrase that emphasizes the passage of multiple generations, rather than the more contemporary idea implied when just translated as "men."
3:6  joint heirs/fellow members/share in the promises: Some add "with Israel" to flesh out Paul's thought in this verse. While that is certainly Paul's meaning, and an incredible truth, the original text doesn't include "with Israel." Paul left it up to his readers to figure out this obvious point. So I left it as Paul did.
3:19  all the fullness of God: Some translations insert the word "measure" here (filled to the measure of all the fullness of God). The word for "measure" does not appear in the Greek text, and in my opinion, confuses the thought. Paul's prayer is that we be filled with all the fullness of God. Adding the word "measure," a word that the Greek language does not supply, may limit the fullness of God to some unspecified unit of measure.
——————————————————–
Subscription Notice: I have found that the most dependable way of notifying subscribers of a new post is through email. So I have added an email subscribe option below. Just add your email address and click subscribe (you will receive an email asking you to confirm your subscription—so check your spam folders if you don't). You will receive an email alert whenever I publish an article. Your emails will be used for no other purpose.
Image credit: Bible by Randal Cutter/iPhone 6s/Photoshop Oil Paint Filter
Share on Facebook