A Translation of Ephesians 2
June 29, 2017, 1:58 pm
Randal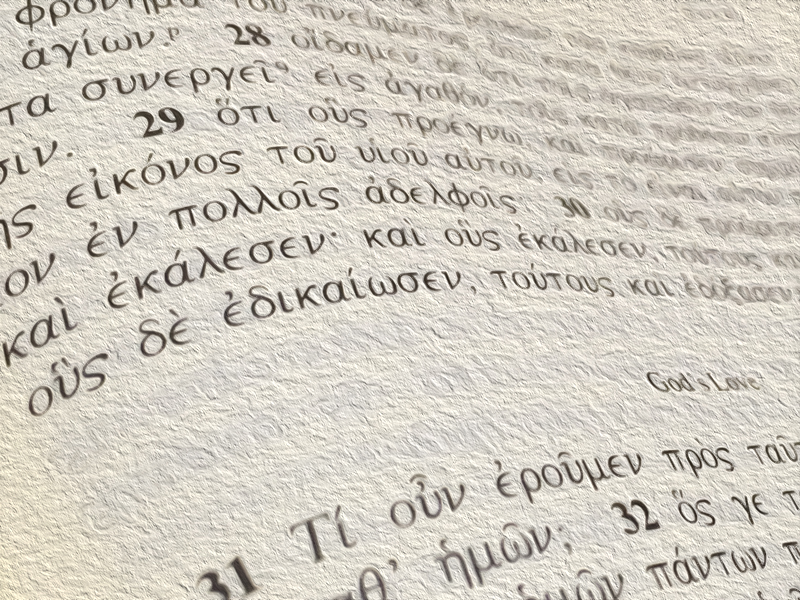 "Like everyone else we were, by nature, angry people." (Eph. 2:3)
Road rage. We've all seen or heard examples of it. We've all seen or heard about its tragic results. Violent reactions to somtimes trivial events seem to be surging.
My daugher told me about an incident from a trip to visit someone in a neighboring city. As she and her husband drove through a neighborhood, they came to a stop sign and pulled up behind a car that had already been stopped at it. The person in the car was obviously distracted by something in the car, and did not move. So my daughter's husband, after waiting an appropriate amount of time, tapped lightly on his horn to alert the driver that someone had pulled up behind him. The reaction of the person in the car demonstrated a fair amount of anger over this attempt to get his attention. As the two cars proceeded from the stop sign, the person in front began to weave between lanes so that my daughter and her husband could not safely pass. Since they recognized that the person had become erratic, they slowed their vehicle to avoid confrontation. Then the person who was driving erratically stopped his car, and quickly jumped out, apparently to confront them. The angry individual, however, had forgotten one thing. My daughter and her husband were in a two thousand pound vehicle with locked doors. He was now on foot. Only someone who is very foolish would have stopped to exchange words with the individual. So they simply pulled their car into the deserted lane of oncoming traffic, and powered around the individual, leaving him to work his anger out all by himself.
Anger can make us irrational. It is irrational to jump out of a car to confront someone in another car. People have died over such antics. But anger can move us towards stupid behaviors.
Unfortunately, we all know the taste of anger, even irrational anger. It is a part of our humanness. When the apostle Paul writes about it, he tells us that type of anger is bound up in the human heart. As a result, we need help. That is his point in Ephesians 2. God looked at angry humanity, and made a plan to deliver us from our own angry nature. God, in his great love, sent his Son to deliver us from the futility of our own anger. He not only forgave us for that anger, he put his Spirit in us to make it possible for us to overcome it. With the Spirit's help we can not only overcome our propensity to irrational anger, we can be freed from its control in our lives. That is the incredible promise of the gospel, the good news found in the message of Jesus Christ. He can change us.
Now, on to the translation of Ephesians 2.
Ephesians 2:1-22
A Translation by Randal Cutter
2:1  Your history is that you also were dead in your offenses and your sins,
2:2  by which you once walked in accord with the supernatural forces of this world, in step with the ruler of the spiritual authorities in the second heaven,* the spiritual being who is now working in those distinguished by disobedience.
2:3  We all also once walked with them, subject to the desires of our flesh, following its will and impulses. Like everyone else we were, by nature, angry people.*
2:4  But God, because he is rich in mercy, and because of his great love with which he loved us,
2:5  and even though we were dead in our offenses, made us alive together with Christ—by grace you have been saved—
2:6  he also raised us with him, and seated us in the heavenly realms with him in Christ Jesus.
2:7  He did this, so that in the ages to come, he might show the extraordinary wealth of his grace revealed in his kindness toward us in Christ Jesus.
2:8  For by grace you have been saved, through faith; and you are not the source of this salvation,* it is a gift of God.
2:9  It is not derived from human effort so that no one can boast.
2:10  For we are his creative work,* crafted in Christ Jesus with a view to the good works which God prepared in advance so that we might walk in them.
2:11  Therefore, remember that you who are Gentiles physically, called "foreskins"* by those who are called "circumcised" (a procedure in the flesh by the human hand),
2:12  remember that once you were separate from Christ, cut off from citizenship in Israel, and strangers to the covenants of promise. You did not have hope, and you had no understanding of God in this world.
2:13  But now in Christ Jesus, you who were once far away are now near through the blood of Christ.
2:14  For he himself is our peace, the one who made the two one, and destroyed in his flesh the barrier, the separating wall of human hostility.
2:15  He canceled the law of the commandments and regulations, in order that he, in himself, might make the two into one new man, and establish peace;
2:16  and that he might reconcile them both to God in one body through the cross, having put the hostility to death by it.
2:17  When he came, he preached peace to you who were far, and peace to those who were near;
2:18  for through him we both have access by one Spirit to the Father.
2:19  So then, you are no longer foreigners or resident aliens;* rather, you are fellow citizens with the saints, and belong to God's household,
2:20  having been built upon the foundation of the apostles and prophets, with Jesus Christ being its most essential cornerstone.
2:21  In him the whole building is being fitted together, and is growing into a holy temple in the Lord.
2:22  In him you also are being built together into a dwelling place of God in spirit.*
——————————————————————
2:2  in the second heaven: the Greek word often translated air refers to "the space above the earth inhabited by and under the control of certain supernatural powers" (Louw and Nida). This was also known as the second heaven, since the first heaven was the abode of humans, and the third heaven was the abode of God (see 2 Corinthians 12:2).
2:3  angry people: The expression which Paul uses is "children of anger." The word I have translated "anger" is a word which is normally translated "anger" when it refers to our human emotion, and "wrath" when it refers to God's anger toward sin. The context of the passage is clearly the negative impulses of our flesh. The phrase "children of anger" means those who are characterized by anger (see 1 Peter 1:14 where "children of obedience" means "obedient people"). Paul is letting us know that those without the Holy Spirit are people who have anger issues. The Holy Spirit desires to free us from those issues.
2:8  the source of this salvation: The preposition normally translated "of" or "from," is a preposition that describes the source of something. I have translated it in a way that makes this more apparent.
2:10  his creative work: This is the Greek word, often translated "workmanship," from which we get our word "poem." When I taught this section, I entitled it, "Becoming God's Poem." The word describes the creative work of God. While "workmanship" or "craftsmanship" are good translations, I have preserved the creativity bound up in this word.
2:11  called foreskins: While many translations choose to render this word as "uncircumcision" in order to contrast it to "the circumcision," the word actually refers to the foreskin, or even to the male sex organ. Those who were calling the Gentiles by this word were not being as polite as most modern translations. It was a graphic description of those who did not bear the sign of the Jewish covenant.
2:19  resident aliens: The Greek term referred to the legal status of those who lived somewhere, but were not citizens. I have translated it in a way to capture that legal status.
2:22  in spirit: Translations often render this phrase as "by his Spirit," or "in the Spirit," or "in his Spirit." However, their is no article or pronoun connected to the phrase, which leads me to believe that the word "spirit" is a reference to the human spirit, or the spirit realm. We are being built together in spirit into a dwelling place of God.
——————————————————–
Subscription Notice: I have found that the most dependable way of notifying subscribers of a new post is through email. So I have added an email subscribe option below. Just add your email address and click subscribe (you will receive an email asking you to confirm your subscription—so check your spam folders if you don't). You will receive an email alert whenever I publish an article. Your emails will be used for no other purpose.
Image credit: Bible by Randal Cutter/iPhone 6s/Photoshop Oil Paint Filter
Share on Facebook