A Translation of Ephesians 1
June 15, 2017, 11:19 am
Randal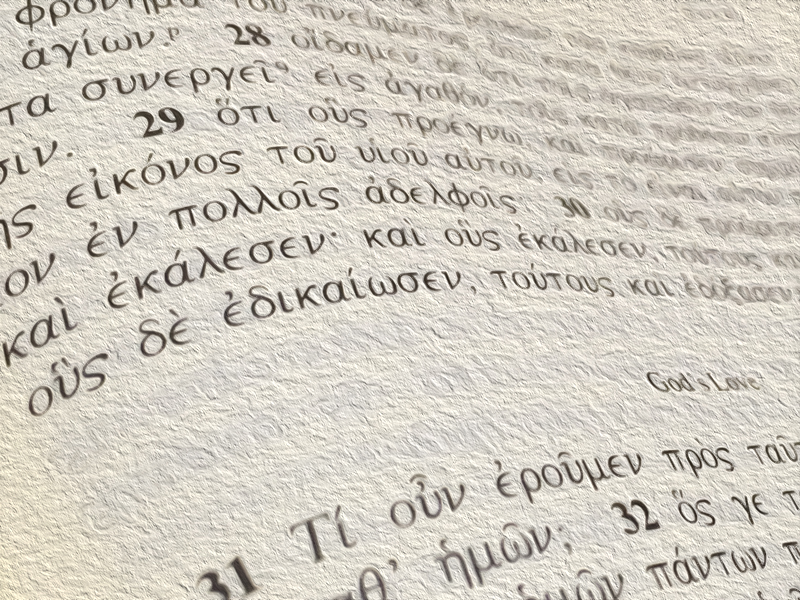 "When you heard the word of truth, the good news of your rescue, and believed, you were also marked in him with a seal, the Holy Spirit of Promise." (Ephesians 1:13)
The Holy Spirit of Promise, what a name! When modern translations render this verse, they often translate it "the promised Holy Spirit." But when they do so, they obscure one of the important names that the apostle gives the Holy Spirit; he is the Holy Spirit of Promise.
Since he is the deposit that guarantees what is to come, this name is most appropriate. God has made many promises to his people. The Holy Spirit is the sign that the promises will be fulfilled. As a result, he is the Holy Spirit of Promise.
When Paul wrote this letter to the congregations in and around Ephesus, he emphasized God's amazing promises, even praying in chapter three that our eyes would be opened to understand all those promises, especially since they are beyond our natural understanding. How appropriate that as Paul writes to people stuck in the mundane routines of life, he emphasizes the promises, and highlights the person of the Holy Spirit as a special carrier of the promise. Whenever we encounter the Holy Spirit, we encounter the reminder of God's great promises, and know for certain they will be fulfilled.
Now, on to the translation of Ephesians 1.
Ephesians 1:1-23
A Translation by Randal Cutter
1:1  Paul, an apostle of Christ Jesus through the will of God, to the saints who live in Ephesus and are faithful in Christ Jesus.
1:2  Grace to you, and peace from God our Father, and the Lord Jesus Christ.
1:3  The God and Father of our Lord Jesus Christ is worthy of praise. He has blessed us with every spiritual blessing in the heavenly realms in Christ Jesus,
1:4  since he chose us in him before the beginning of the cosmos* to be holy and without blemish in his sight, while walking in love.*
1:5  Through Jesus Christ he has predestined us to be adopted as his sons;* this was his delight and his desire,
1:6  for the praise of his wondrous grace, which he graciously bestowed on us in the One he loved.
1:7  In him we have been redeemed, we have been forgiven of our misdeeds through his blood, in harmony with the richness of his grace,
1:8  which he lavishly provided for us with all wisdom and understanding.
1:9  He made known to us the mystery of his will, in accord with his good pleasure displayed in Christ,
1:10  for managing the ending of the ages* and bringing all things together in Christ, things in the heavens, and things on the earth.
1:11  In Christ, we were also appointed as his inheritance,* having been predestined according to the purpose of the one working all things according to the focus of his will,
1:12  so that we, who were first to hope in Christ, might be the praise of his glory.
1:13  When you heard the word of truth, the good news of your rescue, and believed, you were also marked in him with a seal, the Holy Spirit of Promise.*
1:14  He is a deposit guaranteeing our inheritance until the full redemption of the people God has acquired, to the praise of his glory.
1:15  On account of this, and because I heard about your faith in the Lord Jesus and your love for all the saints,
1:16  I have not stopped giving thanks for you, making mention of you in my prayers.
1:17  I pray that the God of our Lord Jesus Christ, the Father of Glory, might give you a spirit of wisdom and revelation in your knowledge of him,
1:18  that he might enlighten the eyes of your heart so that you know what is the hope of his calling, what are the riches of the glory of his inheritance in the saints,
1:19  and what is his exceedingly great power in us who have believed.* That power is in accord with the divine energy of his mighty strength
1:20  which he worked in Christ when he raised him from the dead and seated him on his right hand in the heavenly realms,
1:21   far above all, rule, authority, power, dominion, and every rank that can be named; not only in this age, but also in the age to come.
1:22  He also placed all things under his feet, and appointed him head over all things for the Church,
1:23  which is his body, the fullness of the one who fills all things in every respect.
——————————————————————
1:4  Cosmos: The Greek word (kosmos) can mean "universe" or "world." Since Paul appears to have the creation of everything in mind, I kept the universal intent of the word by simply transliterating it to "cosmos."
1:4  While walking in love: The question for translators is, "Where does the "in love" fit?" Some translators choose, as I did, to keep it with verse four, while others use it to start verse 5. I believe it fits much more naturally with verse four, as a reminder that when we walk in holiness without blemish, that also includes exuding love to those around, rather than the self-righteous, pharisaical attitude with which Paul was all too familiar.
1:5  Adopted as his sons: Paul is using a legal concept from the Roman empire to emphasize our rights as those who are now part of God's family. Men and woman have been given this legal right. However, in the Roman empire it was known as an adoption to sonship, and thus we must translate in a way that captures that legal concept.
1:10  Managing the end of the ages: Paul uses a management word to speak of God's plans in Christ. I translated the word a bit more literally to capture that flavor.
1:11  Appointed as his inheritance: The Greek word often translated "chosen," speaks of being chosen by lot, or appointed as an inheritance. I chose to emphasize the biblical truth in this word that we are Christ's inheritance since Paul again emphasizes that in verse 18 of this chapter.
1:13  The Holy Spirit of Promise: The Greek here is clear that Paul is giving the Holy Spirit a title. Translations handle this in different ways, but I have chosen to highlight Paul's name for the Holy Spirit.
1:19  In us who have believed: Is his power "for us" who believe, or "in us" who believe? While most translations follow the lead of the KJV and translate this phrase as "for us who believe," the Greek is more naturally translated "in us who believe." The same grammar is used in Ephesians 3:16 where the NIV translates "in your inner being" rather than "for your inner being." I also chose to break from tradition in this passage because Paul clearly highlights his focus on God's power in us who believe in Ephesians 3:20, "Now to him who is able to do immeasurably more than all we ask or imagine, according to his power that is at work within us" (NIV). We all know God's power is at work "for us," but it is important to remember that his power is also at work in us, especially when there are so many ways that everything around us attempts to steal this truth from us.
——————————————————–
Subscription Notice: I have found that the most dependable way of notifying subscribers of a new post is through email. So I have added an email subscribe option below. Just add your email address and click subscribe (you will receive an email asking you to confirm your subscription—so check your spam folders if you don't). You will receive an email alert whenever I publish an article. Your emails will be used for no other purpose.
Image credit: Bible by Randal Cutter/iPhone 6s/Photoshop Oil Paint Filter
Share on Facebook