A Translation of Mark Chapter 16
April 17, 2017, 9:45 am
Randal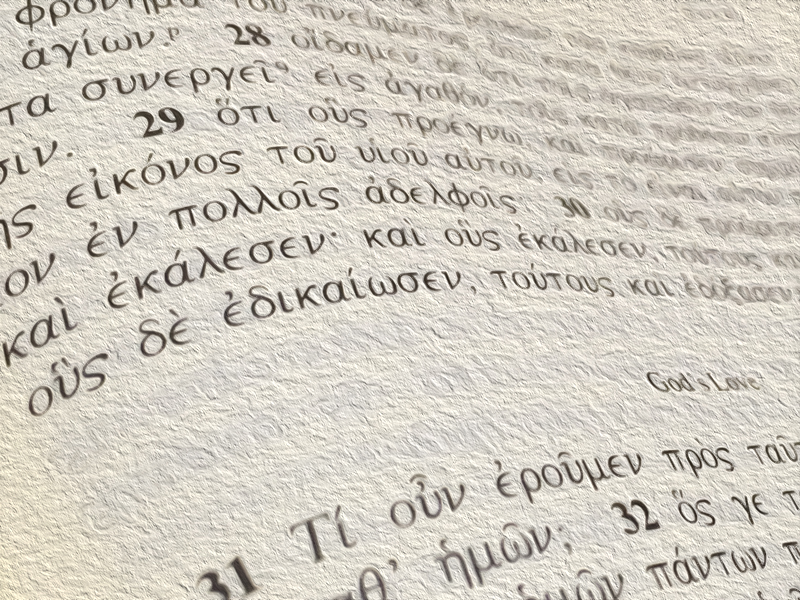 It is a bit embarrassing when we miss the obvious, but the disciples had repeatedly done so on the Sunday after Jesus was crucified. Peter and John had seen the empty tomb, but only the women had seen the angels. The disciples had heard the reports of amazing things, but only the women had heard from Jesus. This made things difficult for the disciples. They didn't know what to think, but they certainly did not think that Jesus had risen. Then the two disciples on the way to Emmaus had added their testimony, but even that was not enough. T
he eleven kept their blinders firmly on. They refused to believe in spite of all the evidence.
But Jesus is in the blinder removing business. He is very good at confronting our obstinate refusal to believe, and moving us in the right direction. The process isn't always pretty, but he will get the job done. In the disciples' case, it took a rebuke from the resurrected Lord himself. We are told in Mark 16, "Later, Jesus appeared to the eleven while they were eating and rebuked their unbelief and hardness of heart, because they did not believe the ones who had seen him after he had risen." (Mark 16:14).
There are some heart-warming scenes that played out on the day of the resurrection. Jesus' incredible care and concern for Mary Magdalene is revealed in his appearance to her, and his personal use of her name to reveal himself. We can imagine the gentle sound of his voice as he spoke her name, and we can imagine Mary's tear-filled response when she realized that Jesus stood in front of her. We can also imagine the scene when Jesus revealed himself to the rest of the women as they returned from the tomb, and they clasped his feet in humble awe. These are scenes that warm our hearts during our resurrection celebration.
Then there is this scene with the disciples. It doesn't feel warm. It doesn't feel affirming. The disciples had refused to believe. The soft tone used with the women was replaced by the firmer tones of rebuke. Jesus not only needed to reveal himself to the disciples, he needed to remind them, and all Christians, that there is a point when healthy inquiry about a supernatural event crosses the line and becomes stubborn refusal to believe.
If such a malady could infect the remaining eleven who had walked with Jesus, how much more must we guard our hearts to defend against this spiritual sickness? There is a reason that Mark's gospel ends with this warning to the disciples; the Church needed to be protected from those who refuse to believe the things that God is doing. That is why Jesus gave the Church signs, confirmations, to demonstrate what true belief would look like among his people.
As you read through the verses of Mark 16, check your heart. Are there signs of a stubborn refusal to believe? Or is faith growing? It is always appropriate to pray, "Lord, increase our faith."
Now, on to the translation of Mark 16.
Mark 16:1-20
A Translation by Randal Cutter
16:1  After the Sabbath was over, Mary Magdalene, Mary the mother of James, and Salome brought spices that they might anoint Jesus' body.
16:2  They came to the tomb very early on the first day of the week, as the sun began to rise.
16:3  They were discussing among themselves, "Who will roll away the stone from the door of the tomb for us?"
16:4  When they looked up, they saw that the stone had been rolled away; for it was very large.
16:5  When they came to the tomb, they saw a young man sitting on the right side; he was wearing a white robe. The women were startled.
16:6  But the man said to them, "Do not be alarmed. You are seeking Jesus the Nazarene who was crucified. He has been raised to life; he is not here. Look at the place where they placed him."
16:7  But you go tell his disciples and Peter, "He will go ahead of you into Galilee. You will see him there. It is just as he told you."
16:8  They went out from the tomb and ran away; for they were overwhelmed by shaking and religious ecstasy;* so they said nothing to anyone because they were overcome with reverence and awe.*
16:9  *When Jesus had arisen early on the first day of the week, he appeared first to Mary Magdalene, from whom he had cast out seven demons.
16:10  She went and reported to those who had been with him. They were mourning and weeping.
16:11  But when they heard that he was alive and had been seen by her, they did not believe it.
16:12  After these things, he appeared in a different guise to two of them while they were walking on their way to the country.
16:13  They also went and reported to the others, but they did not believe them either.
16:14  Later, he appeared to the eleven while they were eating and rebuked their unbelief and hardness of heart, because they did not believe the ones who had seen him after he had risen.
16:15  He said to them, "When you go into all the world, preach the good news to all the creation.
16:16  The one who has believed and has been baptized will be delivered, but the one who has refused to believe will be found guilty.*
16:17  These confirmations* will accompany those who have believed: In my name they will expel demons; they will speak with new languages;
16:18  they will take up snakes with their hands, and should they drink any deadly thing, it will by no means harm them; they will put their hands upon the sick, and they will be healthy.*
16:19  When the Lord Jesus had spoken with them, he was taken up into heaven and sat on the right hand of God.
16:20  Then they went out and preached everywhere. The Lord kept working with them and confirming the word through the signs that attended them.
——————————————————————
16:8  They were overwhelmed by shaking and religious ecstasy: The Greek words refer to shaking such that would accompany religious ecstasy. Since this is a relatively unknown phenomenon in the evangelical church, the translations struggle with the how to translate these words. The New International Dictionary of New Testament Theology, a Greek word study, discusses the word translated ecstasy in this way: Ecstatic phenomena are found in the OT just as in the Gk. and Hel. worlds. In the early days of Israel there was the ecstasy of the elders in the wilderness (Num. 11:24-29) and the description of the trance condition of Balaam (Num. 24:4). The ecstatic character of the early Israelite prophetic bands is described in 1 Sam. 10:5 f., 10; 19:20-24. When occasionally prophets are said to be mad (2 Ki. 9:11; Hos. 9:7) or drunken (Isa. 28:7; Jer. 23:9), the passages point to the link between prophecy and ecstasy.
16:8  They were overcome with reverence and awe: Remember, they also ran into Jesus along the way (See Matthew 28:9-10). It is easy to understand why they didn't say anything right away when you realize this. The encounter with the angels, the truth of the resurrection, and the encounter with Jesus had all overwhelmed them.
16:9 When Jesus had arisen early on the first day of the week: The NIV and other translations discount the authenticity of Mark 16:9-20, since it is such an obvious shift from Mark's style, and doesn't appear in some manuscripts. However, it is apparent not only that is appeared very early in church history, but also that it was received by the early followers of Christ as communicating a genuine report. It is not my purpose to get into a scholarly defense of these verses. Rather, I will simply point out that even though Moses was the author if Deuteronomy, he didn't write the closing verses of Deuteronomy (those verses report Moses' death). Even if Mark didn't personally write these verses (and he certainly may have appended them at a later date after his initial copies), for most of two thousand years the church has received them as inspired, in just the same way we receive the closing words of the book of Deuteronomy even though it is obvious Moses did not write them.
16:16  The one who had refused to believe: The Greek here, often simply translated as unbelief, actually has a sharper point. It refers to one who refuses to believe, just like the disciples had refused to believe that Jesus was alive. Since the context is about the disciples' refusal to believe the supernatural reports in spite of many witnesses, so we need to be careful not to take the focus away from that context. We have a responsibility to believe the supernatural reports about Jesus because it is so well-attested.
16:16  Will be found guilty: When we translate the Greek word "condemned," we often conflate the verdict with the execution of the punishment. The Greek word means "to be found guilty," without indicating the punishment.
16:17  These confirmations will accompany those who have believed: So what does "believing" look like? Jesus details the signs to look for among those who walk in true faith. These are signs that are intended to confirm that those wielding them are walking in belief. Notice the collective nature of this verse. It isn't that every individual in the group will do these things, but that one can expect these types of confirmations among churches and groups that "believe."
16:18  They will take up snakes with their hands: In essence, the five confirmations that God will intermittently release in groups in order to verify that they are a group that is not refusing to believe: 1). Freeing people from bondages and addictions; 2). Manifesting unlearned languages in contexts that require it; 3.) Having a level of authority over negative environmental factors; 4.) Having a level of authority over murderous intent; 5.) Growing in supernatural authority over sickness and disease. Please note that these are not listed as acts of worship, or required of each individual, since the pronouns used are collective in nature. Please also note that putting someone's life in danger as a test of faith is a clear violation of Jesus' words, "Do not put the Lord your God to the test" (see Matthew 4:7 NIV).
——————————————————–
Subscription Notice: I have found that the most dependable way of notifying subscribers of a new post is through email. So I have added an email subscribe option below. Just add your email address and click subscribe (you will receive an email asking you to confirm your subscription—so check your spam folders if you don't). You will receive an email alert whenever I publish an article. Your emails will be used for no other purpose.
Image credit: Bible by Randal Cutter/iPhone 6s/Photoshop Oil Paint Filter
Horses Copyright zwilling330 / 123RF Stock Photo
Share on Facebook