A Translation of Mark Chapter 14
March 3, 2017, 6:00 am
Randal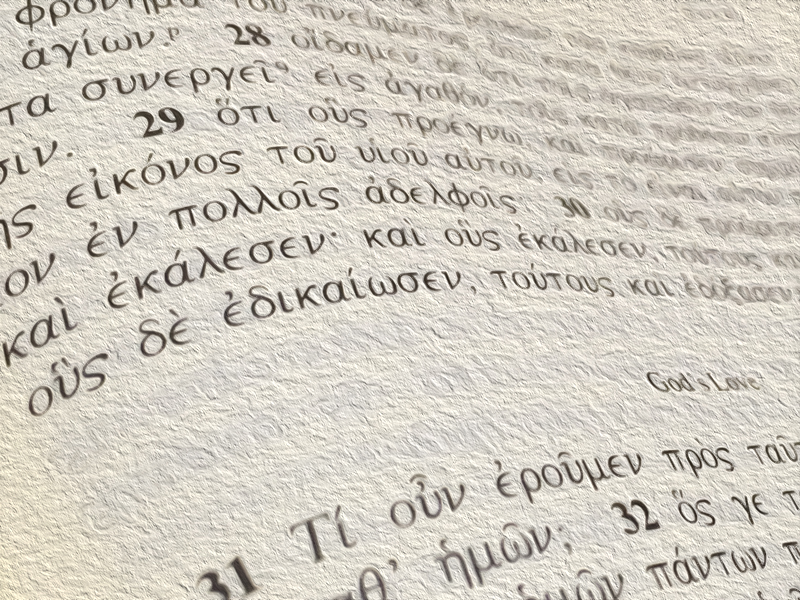 "The Son of Man will go just as it is written concerning him, but woe to that man through whom the Son of Man is betrayed. It would be better for that man if he had not been born." (Mark 14:21)
Ultimate reconciliation is the false teaching that all people, even those who rejected God, will be reconciled to him in the end. I call it a false teaching, because Jesus clearly demonstrates that it is so in this verse.
I understand the allure of the theology of ultimate reconciliation. It certainly is far more appealing to our natural minds to imagine that God will save every person, rather than contemplate the fact that there is a place of unending separation from God. Those who champion the theology of ultimate reconciliation usually frame their defense of this theology by pointing out the relatively few number of people who have had a chance to believe in the God of Abraham, Isaac, and Jacob. As they share their arguments, they make it sound as if God is somehow unfair to those who have rejected his truth, if in fact he does not ultimately reconcile them.
While I understand why they believe this, I believe that they are certainly wrong. While proponents of ultimate reconciliation make it sound as if few people actually get the chance to respond to God, that is not what the Bible, or our own experience, teaches us. All people who have reached what is popularly known as the age of accountability have the opportunity to respond to God. The Psalmist tells us,
The heavens declare the glory of God; the skies proclaim the work of his hands.
Day after day they pour forth speech; night after night they display knowledge.
There is no speech or language where their voice is not heard.
(Psalm 19:1-3 NIV)
The incredible majesty of our creation is a voice calling out to all people. They proclaim that there is a creator, and our conscience calls us to know him better, to get in right relationship with him. This witness has called all truth seekers since the creation, and will continue to do so. When a truth seeker responds to the twin voices of creation and conscience, the God who created the expanding vastness of the universe is more than able to get more truth to the seeker.
That, in an incredibly condensed form, is why I do not except the premise of those who believe in ultimate reconciliation that only a few people ever have the opportunity to experience God's truth. The Bible says otherwise.
If that isn't enough reason to doubt the theology of ultimate reconciliation, Jesus' words in Mark 14:21 certainly put a knife through the theology's heart. Jesus, speaking of Judas, the one who would betray him, stated that it would be better if he had not been born. If ultimate reconciliation is true, then Jesus' words make no sense. If everyone is reconciled, then Judas will also be reconciled, and the glories of an eternity in the presence of God certainly outweigh any pain, torment, or censure that Judas has or will receive for his perfidy and betrayal. If ultimate reconciliation is true, then there is no person who has ever been born for which non-existence trumps the eternal reconciliation to come; not being born would be far worse than living forever in the bliss of the eternal presence of God.
Ultimate reconciliation, thus, is wrong. God's inviting voice continues to go out to all creation inviting and wooing us. Our response opens the door so that we can hear him even more clearly.
Now, on to the translation of Mark 14.
Mark 14:1-72
A Translation by Randal Cutter
14:1   Now the Passover and Unleavened Bread were two days away. The chief priests and the scribal scholars were seeking how they might arrest Jesus by stealth and kill him.*
14:2   For they agreed, "Not during the feast, or there could be an outcry among the people."
14:3   While Jesus was in Bethany at the house of Simon the Leper* reclining at the table, a woman came with an alabaster jar of very expensive perfumed oil made of pure nard. She broke the alabaster jar and poured it out on his head.
14:4   But some were murmuring indignantly among themselves, "Why has this ointment been wasted?"
14:5   For it could have been sold for over three hundred denarii,* and the proceeds given to the poor. Then they began to correct her harshly.
14:6   Then Jesus said, "Leave her. Why are you causing her grief? What she has done for me is appropriate."
14:7   "For you will always have the poor living with you, and whenever you wish, you may do well by them. But you will not always have me."
14:8   "What she could do, she has done. She has anointed my body in preparation for burial ahead of time."
14:9   "I am telling you the truth, wherever the good news is preached throughout the world, what she has done will also be told in memory of her."
14:10   Then Judas Iscariot, one of the twelve, went to the chief priests in order to betray Jesus to them.*
14:11   When they heard, they were glad and promised to give silver coins to him. So he began seeking an opportunity to betray him.
14:12   On the first day of the Feast of Unleavened Bread, the day they usually sacrificed the Passover lamb, Jesus' disciples asked him, "Where do you want us to go and prepare in order that you might eat the Passover?"
14:13   In response, he sent two of his disciple and said to them, "Go into the city, a man carrying a water jar will meet you. Follow him,"
14:14   "and whatever house he enters, say to the owner, 'The teacher says, "Where is my meeting room where I may eat the Passover with my disciples?""
14:15   "Then he himself will show you a large room on the second floor, it will be furnished and ready. You will prepare for us there."
14:16   The disciples left him and came into the city. They discovered everything just as he had told them, so they prepared the Passover.
14:17   When evening arrived, Jesus came with his disciples.
14:18   While they were eating at the table, Jesus said, "I am telling you the truth: One of you who are eating with me will betray me."
14:19   They began to grieve and to say to him one by one, "It isn't me, is it?"*
14:20   But he said to them, "One of the twelve, one who is dipping in the bowl with me."
14:21   "The Son of Man will go just as it is written concerning him, but woe to that man through whom the Son of Man is betrayed. It would be better for that man if he had not been born."
14:22   While they were eating he took some bread and blessed it. Then he broke it and gave it to them and said, "Take this. It is my body."
14:23   He also took a cup, gave thanks and gave it to them. They all drank from it.
14:24   He said to them, "This is my blood of the covenant that is poured out on behalf of many."
14:25   "I am telling you the truth, I will not drink from the fruit of the vine until that day when I drink it afresh in the Kingdom of God."
14:26   After that, they sang a hymn and went out to the Mount of Olives.
14:27   Jesus had said to them, "You will all fall into a trap, for it is written, 'Strike the shepherd, and the sheep will be scattered.'"
14:28   "But after I have risen from the dead, I will go before you into Galilee."
14:29   But Peter had responded to him, "Even if everyone else falls, I will not."
14:30   But Jesus said to him, "I am telling you the truth, today, this night, before the rooster crows twice, you yourself will deny me three times."
14:31   But Peter said emphatically, "Even if I must die with you, I will never deny you." The rest of them repeated the same thing.
14:32   They came to the place whose name was Gethsemane, and Jesus said to his disciples, "Sit here while I go and pray."
14:33   After that, he took Peter, James, and John with him and began to struggle with anguish.
14:34   He said to them, "My soul is profoundly sorrowful even unto death. Remain here and stay alert."
14:35   He traveled a short distance, fell upon the ground, and began to pray that if it was possible, the hour pass from him.
14:36   But he added, "Abba Father, all things are possible for you. Take this cup away from me. But not what I desire, but what you desire."
14:37   He came and found the three disciples sleeping. So he said to Peter, "Simon, are you sleeping? Were you not able to stay alert for one hour?"
14:38   "Stay alert and pray, in order that you do not enter into temptation. The spirit is eager, but the flesh is weak."
14:39   Again he left and prayed, saying the same words.
14:40   When he came back, he found them sleeping again, for they were very sleepy. They did not know how to respond to him.
14:41   He came the third time and asked them, "Are you still sleeping and resting? Enough of that; the hour has come. Look, the Son of Man is being betrayed into the hands of sinners."
14:42   "Get up and let us go. Look, the one who is betraying me is near."
14:43   At that moment, while Jesus was still speaking, one of the twelve, Judas, arrived. A crowd was with him sent from the chief priests, scribal scholars, and the elders. They carried swords and clubs.
14:44   Now the one who betrayed him had given a signal to them saying, "Whomever I kiss, he is the one. Arrest him, make him secure, and take him away."
14:45   When he came, he immediately went to Jesus and said, "Rabbi," and kissed him.
14:46   Then they arrested him and took him into custody.
14:47   But one who had been standing there drew his sword, struck the servant of the high priest, and cut off his ear.
14:48   Jesus responded and said to them, "Have you come with swords and clubs as if I was a rebel to capture me?"
14:49   "Each day I was with you in the temple teaching, and you did not arrest me. But this is happening in order that scriptures might be fulfilled."
14:50   Then the disciples abandoned him and everyone fled.
14:51   A certain young man was following him wearing only a linen sheet to cover himself. They seized him,
14:52   but he left the linen sheet and fled naked.
14:53   They led Jesus to the high priest, and all the chief priests gathered along with the elders and scribal scholars.
14:54   Peter followed him from a distance into the courtyard of the high priest. He sat with the servants and warmed himself at the fire.
14:55   Meanwhile, the chief priests and the whole Sanhedrin were seeking testimony against Jesus in order to put him to death, but they could not find any.
14:56   For many people were bearing false witness against him, but their testimony did not agree.
14:57   Some arose giving false testimony against him saying,
14:58   "We heard him saying, 'I will destroy this temple made by hands, and after three days I will build another not made by hands.'"
14:59   Even then, their testimony did not agree.
14:60   Then the high priest stood up in their midst, and questioned Jesus asking, "Aren't you going to answer what these men are testifying against you?"
14:61   But he remained silent and did not answer a thing. Again, the high priest questioned him and asked, "Are you the Christ, the son of the blessed one?"
14:62   Then Jesus said, "I am, and you will see the Son of Man on the right hand of power, and coming with the clouds of heaven."
14:63   Then the high priest tore his clothing and said, "What more do we need of witnesses?"
14:64   "You have heard the blasphemy. What is your decision?" They all condemned him as worthy of death.
14:65   Some of them began to spit on him, and to cover his face and strike him repeatedly saying to him, "Prophesy!" The guards also struck him as they took him away.
14:66   While Peter was below in the courtyard, one of the high priest's servant girls approached him.
14:67   When she saw Peter warming himself, she stared at him and said, "You also were with Jesus the Nazarene."
14:68   But he denied it saying, "I don't know or understand what you are talking about." Then he went outside into the front courtyard; and a rooster crowed.
14:69   When the servant girl saw him there,* she again began to tell those standing around, "This man is with them."
14:70   But he denied it again. After a little while, those standing around said to Peter, "Surely you must be with them, for you are a Galilean."
14:71   Then he bound himself under a curse and swore, "I do not know this man you are talking about."
14:72   Immediately a rooster crowed for the second time. Peter remembered the words Jesus had spoken to him, "Before the rooster crows twice, you will deny me three times." When he realized this, he began to weep loudly.
——————————————————————
14:1  The chief priests and scribal scholars: All those who labor in my profession understand the temptation these men faced toward expediency. None of us can understand the incredible pressure they faced as they attempted to maintain order in a fractious time period, facing the demands of a brutal governor. These pointed accounts about the spiritual leaders of Jesus' day were not written so that we could excoriate their evil choices, but rather so that we can confront our own temptations. We, too, can turn aside from God's new things because of the competing pressures of any ministry. That must be our lesson about our own humanity as we read this chapter, or we have missed the point.
14:3  Simon the leper: It goes without saying that Simon was a former leper who had been healed, or observant Jews could not have gathered in his home.
14:5  Three hundred denarii: A denarius was normally given as a day's wage for a working man or soldier. Some translations, recognizing that there are about three hundred working days in a year, translate this as "a year's wage." While not inexact, I chose to translate the exact amount and type of currency mentioned.
14:10  To betray Jesus to them: Often movie makers attempt to psychoanalyze Judas looking for clues to his betrayal. The gospels are fairly clear. Judas used to help himself to the funds that Jesus and his disciples had at their disposal. It is probably not a coincidence that Judas' betrayal is listed right after the incidence with the alabaster jar. Judas was the ringleader of those who attacked Mary (see John 12:4-6), and Jesus' rebuke may have moved Judas to pursue other profit opportunities.
14:19  It isn't me, is it?: I have tried to retain the force of their original question to show how they asked the question. They were looking for a "no" answer. Judas did not get one.
14:69  When the servant girl saw him there: The other gospels, especially John's, give much more detail about how this confrontation developed. Mark's account focuses the camera on this persistent servant girl, and Peter's fear of exposure at her hands.
——————————————————–
Subscription Notice: I have found that the most dependable way of notifying subscribers of a new post is through email. So I have added an email subscribe option below. Just add your email address and click subscribe (you will receive an email asking you to confirm your subscription—so check your spam folders if you don't). You will receive an email alert whenever I publish an article. Your emails will be used for no other purpose.
Image credit: Randal Cutter/iPhone 6s/Photoshop Oil Paint Filter
Share on Facebook