Satan's Counterfeit Flood
June 9, 2015, 6:00 am
Randal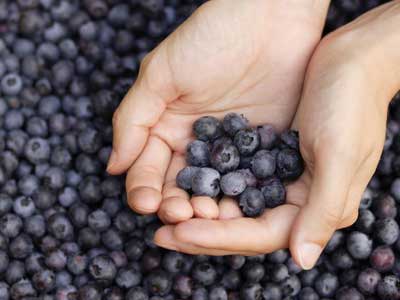 The flood is coming. It is intended to wipe away truth. It will overwhelm those who are not prepared. It must not succeed in overwhelming us.
Last November, the Lord began to direct our attention to this flood. He did it by telling Dawn and I that it was important to watch the season of the blueberry festivals. We did not quite understand his purpose, but when the Lord speaks, we listen. We checked when Florida's blueberry festivals were held, and learned that April was an important month for blueberries in Florida. While we didn't commit a lot of time to our investigation, April came and went without any real insight.
However, last week we had the opportunity to connect with a friend of ours at the annual conference for our ministry stream, the MorningStar Fellowship of Ministries. Our friend is a blueberry grower, so we knew he would provide insight into why the Lord may have spoken this to us. When we asked him about the blueberry festivals, he pointed out that the festivals are marketing events timed around the harvest. He then pointed out something about this year that helped us understand why the Lord had directed our attention to this year's harvest.
This year, the blueberry crop in Florida was incredibly good. The crop was abundant, had a pleasing appearance, and was tasty. It looked to be a good year for Florida's blueberry farmers. But then, just before Florida's blueberry growers sent their fruit to market, the country of Chile flooded the United States' market with lower quality blueberries. In a move that damaged U.S. growers, Chilean exporters held their blueberries in special storage—a move that greatly decreases the fruit's flavor—waiting for just the right moment to gain market share in the United States. This Chilean intervention in the U.S. market harmed Florida's growers, even though Chile's blueberries were inferior to those produced by Florida's growers.
While I listened to my friend's explanation of this year's harvest, the Lord showed me why he had drawn our attention to the plight of Florida's blueberry growers. It parallels a battle that will be fought in the Kingdom.
Things are looking up in the Body of Christ. There is abundant evidence that it has been maturing. The Holy Spirit has been working diligently to prepare us. The yeast of the Kingdom of God has begun to permeate the Church in earnest. The Kingdom mustard seed is even growing to provide shade for the inhabitants of the world (see Matthew 13:31-33). We are approaching a time when the Lord's Kingdom agents are going to release amazing fruit. It will be abundant, have a pleasing appearance, and be very appealing. We are looking to the harvest season with expectation.
But Satan has a plan to gain market share in spite of what God has planned. He plans to flood the market at harvest time with his inferior counterfeits in order to harm as many people as possible. Fortunately, the Lord is revealing Satan's plans to us in advance so that we can sound the warning. When we are adequately prepared, Satan's false fruit is easily distinguished from the good fruit. The writer to the Hebrews stated that those who have been ingesting solid food "have their powers of discernment trained by constant practice to distinguish good from evil" (see Hebrews 5:14 ESV). Satan's counterfeits may look good to the unpracticed, but they will always be apparent to those who have grown in righteousness.
The only people in danger of being taken in by Satan's plans are those who have not been ingesting the solid food of the Word. This means that this is a time to hunger for the Word as never before. It is our protection from Satan's deceptions. The apostle Paul wrote of Satan's end times plan in 2 Thessalonians 2.
The coming of the lawless one is by the activity of Satan with all power and false signs and wonders, and with all wicked deception for those who are perishing, because they refused to love the truth and so be saved. (2 Thessalonians 2:9-10)
When we ingest God's Word, we are demonstrating a love for the truth that will see us through the flood of deception that is about to be released. The only ones who will be fully and completely deceived are those who refuse to love the truth.
I learned something else as we spoke with my friend. He shared how he was responding to Chile's attempts to seize advantage in the Florida market. He has been crossbreeding different varieties of blueberry bushes in order to produce larger blueberries that are sweet and flavorful.
The spiritual parallels to his plans are clear. In order to counter Satan's plan, we must press into the Lord for even better fruit than we are producing now. We must be willing to cross our denominational streams (crossbreeding) to combine key truths in ways that produce even more fruit. When the true fruit of the Kingdom is then produced at an even higher level, the counterfeits become obvious.
I walked away from my discussion with my blueberry-growing friend with a two-pronged strategy. The first is to encourage all of God's people to dive into the Word even more persistently. It is time for us to leave behind the sin and distractions that so easily entangle us, and to demonstrate a love for the truth. That will protect us from the deceptions of our spiritual enemy.
The second part of the strategy involves pressing in to the Lord for even more obvious and attractive displays of fruitfulness. It involves learning from each other as we each share what the Lord has taught us so that we might together produce even greater fruit.
We are approaching days in which Satan's false works will flood the spiritual market. But we can withstand this flood. When we consistently step into the character and power of God, the imitations will appear faded and pale by comparison. More than that, we can expose this flood for what it is, a last desperate attempt by the forces of darkness to counter the growing spiritual fruit being produced by the Kingdom of God. This attempt will most certainly fail.
——————————————————–
Subscription Notice: I have found that the most dependable way of notifying subscribers of a new post is through email. So I have added an email subscribe option below. Just add your email address and click subscribe (you will receive an email asking you to confirm your subscription—so check your spam folders if you don't). You will receive an email alert whenever I publish an article. Your emails will be used for no other purpose.
Image credit: / 123RF Stock Photo
Share on Facebook