It's Called Seer Ease
March 2, 2015, 4:37 pm
Randal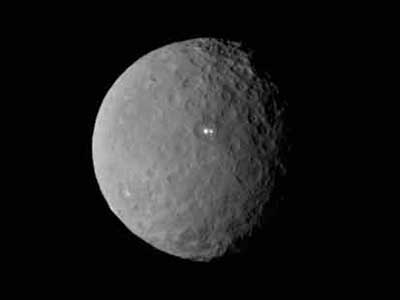 Have you noticed the sign in the heavens? The dwarf planet Ceres (pronounced seer-eez) has captivated scientists because of two bright lights shining from its surface. The NASA community, and those who watch the heavens, are abuzz over the lights and what they mean. The prophetic community should be just as intrigued.
The picture at left was taken by the Dawn spacecraft on February 25th. That spacecraft is just about to complete its 900 million mile, seven-and-a-half year journey to Ceres this week. It is scheduled to enter Ceres' orbit this Friday, March 6th. You will notice the two bright lights that appear near the center of the photograph. Those lights are causing the stir. At present, no one knows what they are. There is much speculation at this point, but until the Dawn spacecraft gets close enough to take high resolution images, and to perform other scientific tests, all NASA is able to do is speculate as it waits impatiently for more data. At this point NASA is officially "puzzled."
The fact that Ceres is causing a stir as the Dawn Mission nears its conclusion is rather appealing to our congregation. We have been watching the Dawn Mission since mid-2007. In fact, I launched this blog at that time, and linked the start of this blog to the Dawn Mission. I have preserved that short post from this blog's pre-Wordpress days HERE. The Lord so directed our attention to the beginning of the Dawn Mission, that our media team even attended the launch of the spacecraft in 2007. Since then, I have followed its mission reports as it has provided scientists with much valued information about our solar system.
It was only recently, as I was looking up information on Ceres, that I came across the pronunciation guide that I have highlighted in the title. It is pronounced seer-eez. Of course, I knew how to pronounce Ceres from having heard it pronounced. But until I saw the pronunciation guide, it did not occur to me that is sounded like Seer Ease. That odd bit of information has drawn my attention even more closely to what the Lord might be saying.
According to 1 Samuel 9:9, a seer is a prophet. Our congregation, New Dawn Community Church, is a seer congregation. We are part of a ministry stream that majors in seer revelation. I believe this coincidence is actually a part of the message in the heavens. As the prophetic gifts have been restored to the Church, the Church has been ill-at-ease with them. Wouldn't it be nice if Ceres was a heavenly sign that the prophetic gifts were about to attain wider acceptance in the Church? Or that the seers were about to hit the easy button (another way of pronouncing eez) and step into higher levels of revelation and grace for ministry? Stranger things have happened throughout Church history. God releases unexpected light in key places, and then the Church begins to understand his truth more fully.
Whether that is part of the meaning of this sign or not, I believe we are witnessing some sort of sign in the heavens. The Lord has placed the heavenly bodies in the sky to mark signs and seasons, days and years (see Genesis 1:14). That means that the Lord has placed Ceres, a dwarf planet that we did not even know about until one hundred fifty years ago, and could not see clearly until last week, as a sign for our time. When he created the world, he was well aware of the fact that the Dawn Mission would approach Ceres at this time in earth history. He also knew that the sign would be so unexpected, and so puzzling, that NASA would have no immediate answer for it. I suspect that as the Dawn spacecraft gets closer to Ceres, they will be able to figure out if the lights are a reflection from water or minerals, or ice volcanoes, or something even more spectacular. But in the meantime, I believe the Lord has gotten our attention. I believe that is his purpose in this process.
While we await the scientific explanation, I can offer a biblical meaning. Back in 2007, at the inception of the Dawn Mission, the Lord showed us that the mission was tied to Isaiah 60:1-3 (NIV):
Arise, shine, for your light has come,
and the glory of the LORD rises upon you.
See, darkness covers the earth
and thick darkness is over the peoples,
but the LORD rises upon you
and his glory appears over you.
Nations will come to your light,
and kings to the brightness of your dawn.
When you realize that there is no way we could have known about this strange light phenomenon seven years ago when the Lord linked this passage about God's light and glory to the Dawn mission, you begin to understand that this sign in the heavens is most encouraging.
——————————————————–
Subscription Notice: I have found that the most dependable way of notifying subscribers of a new post is through email. So I have added an email subscribe option below. Just add your email address and click subscribe (you will receive an email asking you to confirm your subscription—so check your spam folders if you don't). You will receive an email alert whenever I publish an article. Your emails will be used for no other purpose.
Image credit: NASA
Share on Facebook