Don't Forget to Wave
February 4, 2015, 8:49 pm
Randal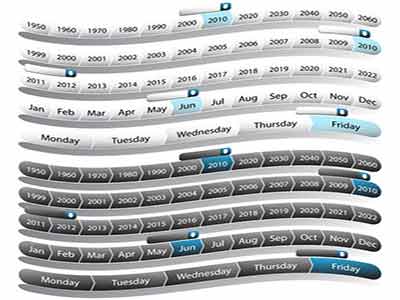 I have been spending a bit of time grappling with time. The Lord has been showing me things about time, and about how time was created for us; we were not created for time. I hope that last sentence reverberates around your soul for a little while. It is a paraphrase of what Jesus said about the Sabbath. The Sabbath was created for man, not man for the Sabbath.
You see, in Jesus' day, the Sabbath had become the master of the people. God intended to bless his people through the Sabbath, breaking the daily work cycle every seven days. The Lord knows us so well that he commanded that no work be done on the Sabbath. He understands our compulsion to work, to accomplish, and to achieve so well that he placed an absolute prohibition against work that could only be broken for emergencies. However, the legalists had taken over the sabbath principle, and turned the day from a day of rest to a day of meticulous rule keeping and mendaciously applied strictures on every day life. The sabbath law, which had been created to liberate man from bondage to work, had been turned into something that tied them more firmly in bondage. The Sabbath had been created to serve man, but the legalists made man serve the Sabbath.
In the same way, time was created to serve man, but after the fall it became man's master. When death entered into the world, the clock started ticking. Suddenly, mankind had a finite amount of time to accomplish all the goals and pursuits that could have filled an eternity. Time, which had been created to bless mankind by marking days and seasons and years, instantly became man's master.
However, when Jesus defeated Satan, he brought life and immortality to light (see 2 Timothy 1:10). One of the results is that time is no longer supposed to be our master, it is supposed to be our servant. The implications of that statement are well outside the scope of this article, and for now, mostly outside the scope of my understanding. But the Lord is trying to knock my blinders off so that I understand more.
To that end, he dropped a seed of knowledge into my soul today that left me dumbfounded for a minute. That tidbit is about the great cloud of witnesses. These witnesses are mentioned in Hebrews 12:1, just after the writer to the Hebrews has listed the heroes of faith in Hebrews 11. Having drawn attention to these heroes who have gone before, the writer to the Hebrews says that "we are surrounded by such a great cloud of witness" (see Hebrews 12:1).
One accepted truth about time is that God exists outside of time. He created time for us. When I think of God existing out of time, I like to think of time as a foot long ruler. I imagine that one end of the ruler is the beginning of time, and the other end of the ruler is the end of time. In this view, God's consciousness is larger than the ruler; it is larger than time. In reality, as he views time, he is viewing and interacting with every second of time simultaneously. That means that God is interacting with Abraham, Moses, David, Peter, Luther, and us all at once. We are the creatures of time, he is not.
I know, for many of you, I am messing with your heads right now. Actually, I am messing with your blinders. Until you begin to see time in this fashion, you will be limited to the human perspective. When God put eternity in our heart (see Ecclesiastes 3:11), he made it possible for us to conceive of time from his eternal perspective, rather than our limited time-saturated experience.
While this has implications for whole areas of theology—again, outside the scope of this article—as I stated earlier, the Lord showed me one thing today that stopped me in my tracks. He had recently given us a prophetic picture of a dear mentor who has passed into eternity. He actually showed us a picture of him sitting on a very comfortable chair, with a ringside seat, watching events that he helped set in motion begin to play out. He is truly part of the great cloud of witnesses. It was a very encouraging picture.
I was contemplating that picture today, and realized that since my friend was now outside of time, he could begin to see time from God's perspective, though in a much more limited way. Although I believe our intellectual capacities will be incredibly expanded once we are free from the results of the fall, we are not God. We do not have his capacities. So I was considering how my friend might be moving his chair around different slices of time to take in the events of history. I realized, that since he can now see from God's viewpoint, that it is possible to move his chair around the different slices of time and watch them as they occur. Do you feel your blinders shifting yet?
As I considered this, I realized that my friend could be watching slices of time in which he played a role. Then it suddenly occurred to me. That means, that while he was on this earth, my friend was already a part of the great cloud of witnesses watching the events of his life, and the lives of those around him, unfold with all the intricacy of a tapestry being woven together. Then the moment of revelation came. I realized that the great cloud of witnesses already includes every believer who will ever name the name of Christ.
What do I mean? When we, each of us, enters into that eternal state, we step out of time and take our seat in the great cloud of witnesses. We all then have the ability to peer through the sea of glass from God's perspective outside of time. In a sense, we will be able to move our chairs to whatever place in living history we desire. We will see God's glory played out in history as witnesses of his glory, from the beginning of time to its end.
That is why the great cloud of God's people are known as the great cloud of witnesses. They witness God's glorious works on the earth from the beginning of time to its very end. When we, each of us, step into that great cloud, we will be able to see from God's perspective, like my mentor and friend. We will also be able to move from one slice of time to the next, examining God's glory on display in the individual lives of every person who ever lived on this planet, in the individual lives of every animal and every insect that ever lived on this planet, in the birth and death of stars and galaxies throughout the universe. The staggering complexity of this universe means that we will be busy for quite some time giving glory to God for everything he has done from the very beginning of time to its very end. In the process, we will learn about new facets of our Creator and King, and be able to give him glory with even more understanding.
Now, to the reason for the title to this article. Since at some point in our future we will step out of time, and since we will then no longer be subject to time, but will be able to see time from God's eternal perspective, this means that you and I are already a part of that great cloud of witnesses. We are witnessing the events of time as they happen, and as members of that great cloud, we are also observing the events of this slice of time, watching events unfold around the world and around the universe, but most certainly also seeing how the Lord worked in our own lives during this slice of time. That means—and this is the part that might startle—that means that we are already watching ourselves. So how about giving yourself a wave?
Paul, of course, described this by saying that we are already seated in the heavenly places with Christ:
But because of his great love for us, God, who is rich in mercy, made us alive with Christ even when we were dead in transgressions—it is by grace you have been saved. And God raised us up with Christ and seated us with him in the heavenly realms in Christ Jesus, in order that in the coming ages he might show the incomparable riches of his grace, expressed in his kindness to us in Christ Jesus. (Ephesians 2:4-7 NIV)
So go ahead and wave.
——————————————————–
Special Subscription Notice: I recently found out, that for the last months, those who subscribed to this blog were not really subscribed. That error has been fixed. However, if you have not been receiving notices, simply reenter your email address below.
Subscription Notice: I have found that the most dependable way of notifying subscribers of a new post is through email. So I have added an email subscribe option below. Just add your email address and click subscribe (you will receive an email asking you to confirm your subscription—so check your spam folders if you don't). You will receive an email alert whenever I publish an article. Your emails will be used for no other purpose.
Image credit: / 123RF Stock Photo
Share on Facebook