Aging is Indeed a Disease
February 10, 2015, 1:57 pm
Randal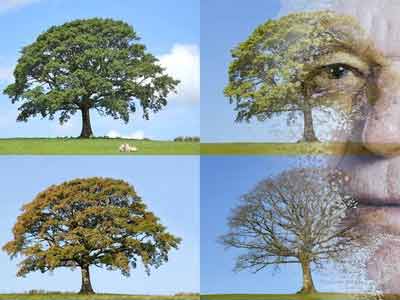 As I have chewed on the concept of time, I have considered how something that was intended to bless us has become a harbinger of disease and death. In Eden, before the Fall, time would have passed without negative impact on Adam or Eve. Ten thousand years might have passed, and Adam and Eve would have looked and felt as they had on day one. Time, as it was created, did no harm to human beings. While the passage of time would have brought the young to maturity and robust adult life, the maturation process would have stopped there.
Of course, that is not the case since Adam and Eve fell. The passage of time now can wreak havoc on the human body. Although the elderly only made up 13% of the population of the United States in 2010, their medical care was 34% of the overall health care expenditures that year. As people age, it is normal in this fallen world that their health fails.
If you look up the word disease in the dictionary, you will find a definition like this one from Merriam-Webster online: a condition that prevents the body or mind from working normally. If normal is the state of being that we attain at full maturity, it is obvious that aging is most certainly a disease. As we age, our bodies no longer do the same things that they were capable of doing at the age of twenty-five when, for the most part, our bodies worked normally. The aging process often prevents the body or mind from working normally.
We must understand and embrace this concept if we ever want to overcome it. We have little power over the things we accept as normal in our lives. If we believe increasing limitation is normal for a Christian, we will never strive to overcome it. We will counsel the elderly to accept their lot, taking Solomon's description of the aging process as normative, quoting the words of wisdom from Ecclesiastes about how to adjust to our "under the sun" existence (see Ecclesiastes 12:1-7).
And while we may think it is wise to accept our condition, we live in a far different covenant than Solomon did. We live in the Kingdom, and it advances as forceful people take hold of it. Jesus once called his disciples and "gave them authority over unclean spirits, to cast them out, and to heal every kind of disease and every kind of sickness" (Matthew 10:1 NASB). Jesus' disciples were given authority to heal every kind of disease and sickness. Old age is a disease. Many of the maladies that the disciples healed, without any doubt, were maladies brought on by old age. In the same way that Jesus freed a woman who had been bound by a demonically imposed arthritic disease for eighteen years (see Luke 13:10-14), they also would have freed the elderly from the diseases that bound them.
Since our King doesn't change, and since we carry his authority (see Matthew 16:19 and Matthew 18:18f.), he stills sends his disciples to take on this scourge. When he stated that signs would follow those who believed, he included sickness and disease. That means that he has given us authority over old age.
But here is the important point: We will not pray against aging unless we recognize it as the disease that it truly is.
Aging is a manifestation of death in our lives. It is our enemy. The Lord had warned Adam that in the day he rebelled, there would be consequences. "For in the day you eat, dying you will die" (Genesis 2:17b My Translation). Most translations render the infinitive absolute as, "you will surely die." That is certainly an appropriate way to translate an infinite absolute. However, it is also legitimate to translate it as I have. The Hebrew literally states, "Dying, you will die." The Lord was warning Adam of death in all of its implications, including the aging process. When Adam disobeyed, death began to reign, and humanity began to age. However, the second Adam has defeated death. We are now in the process of overcoming it. Every healing, every resurrection, every prayer for good health is applying Christ's victory against our enemy, death.
The apostle Paul wrote of Jesus, "For he must reign until he has put all his enemies under his feet. The last enemy to be destroyed is death" (1 Corinthians 15:25-26 NIV). While Christ has defeated death already, we are in the process of applying his victory to our world. We, as his Body, are putting all his enemies under his feet. We will have reached maturity, and Christ will return, after we have placed death under his feet. It is the last enemy to be overcome.
If Moses, who lived under a covenant of death (see 2 Corinthians 3:7-11), overcame aging, how much more should we, who live under the covenant of life, strive to overcome it? The mandate to overcome death in all its forms is not a part of the covenant Moses initiated. But that mandate is most certainly is in our covenant.
How can we overcome it, if we aren't even trying?
If Dylan Thomas had been a theologian, and understood that the Kingdom advances as forceful people push forward, he might have phrased his famous verse this way:
Do not go gentle into that good night,
Old age should burn and flame at close of day;
Pray, pray against the dying of the light.
——————————————————–
Special Subscription Notice: I recently found out, that for the last months, those who subscribed to this blog were not really subscribed. That error has been fixed. However, if you have not been receiving notices, simply reenter your email address below.
Subscription Notice: I have found that the most dependable way of notifying subscribers of a new post is through email. So I have added an email subscribe option below. Just add your email address and click subscribe (you will receive an email asking you to confirm your subscription—so check your spam folders if you don't). You will receive an email alert whenever I publish an article. Your emails will be used for no other purpose.
Picture Credit: Two blended pictures.
Trees Image credit: / 123RF Stock Photo
Face Image credit: / 123RF Stock Photo
Share on Facebook