Another Historic Hurricane Season
November 25, 2014, 3:56 pm
Randal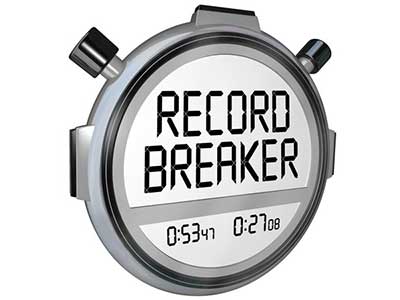 For the ninth year in a row, Florida has not been struck by a hurricane. This is the longest stretch that Florida has not been hit by a hurricane—by four years—since records were first reliably kept in 1851. Florida is not the only state with good fortune. The United States is enjoying the longest stretch of time since the Civil War without a major hurricane making landfall.
While the hurricane season is not officially over until November 30th, it feels like it is time for God's praying people to take a victory lap.
If you have followed this blog for long, and have read the posts on intercessory authority, you know that God's people have incredible authority when they wield the keys of the Kingdom. We only need to pick up those keys and use them. This hurricane season, and the records that continue to be broken by such peaceful seasons, is further evidence that God's people are beginning to understand their intercessory authority.
If it were up to me, and very often it really is up to us, Florida would never be hit by another hurricane. To that end, we have our prayer warriors and our protecting hedges in place throughout the hurricane season. We have been reinforcing those hedges through intercessory prayer every year since 1999. It is no coincidence that just as we, and many other intercessors, have begun to understand and apply our authority over the hurricane season, that the seasons began to diminish in intensity. Each and every year we gain more understanding and authority, and each year for the last nine, the storms keep turning away. This is either an amazing coincidence, or it is incredible evidence of the authority the Lord has granted his Church. I believe, without any doubt, it is because of the authority his Church is learning to wield.
Ken Kaye, a weather reporter for the South Florida Sun-Sentinel, summarized the record breaking 2014 hurricane season in an article he wrote on November 21 (read the full article HERE). Here are some quotes from Ken's article:
Because the state on average is struck by a hurricane once every five years, it's "astounding that Florida has gone so long without a hit," said Dan Kottlowski, lead hurricane forecaster for AccuWeather.com.

Since 2005, 61 hurricanes have bypassed Florida, the last being this year's Hurricane Gonzalo, said Jim Lushine, a retired forecaster and tropical expert. "That's the third-longest streak of missed hurricane strikes in the past 100 years," he said.

In addition, the season presented some mysteries . . . the Atlantic basin is supposedly entrenched in a period where hurricanes form frequently and more intensely, yet this year's overall tropical energy was about two-thirds normal . . .

El Niño, initially predicted to emerge by the heart of the season, was a no-show. Yet the wind shear over the Atlantic basin was remarkably strong and eerily similar to El Niño conditions.

Still, he said, the atmosphere is complex and "we just don't fully understand what's going on out there in the tropics."
That last quote is my favorite. One almost has to feel sorry for those trying to understand what is happening when they are unable to factor in the supernatural. How can a scientist factor prayer into any equation? It is a difficult proposition for them.
My goal is to become so good at praying against hurricanes, that we confound the scientists even more fully. Almost by definition, that is what we are saying anytime we call forth supernatural response into this natural realm. The supernatural will always confound those who focus only on the natural world.
I'm already watching next season closely. Several years ago the Lord spoke to me in a way that made me believe that we may have to counter a specific threat in the 2015 hurricane season. As a result, I will be even more alert for next season, and praying that at its end, we will have extended the number of years since Florida's last hurricane strike to ten.
I believe we have an incredible authority to stop almost any storm when we are engaged in the intercessory authority of God. However, I do have one caveat: I also know about cleansing judgments. The Lord sometimes uses storms as discipline when we stray from his purposes. You can read more about this topic in my post entitled Cleansing Hurricanes (see that post HERE). The Lord hasn't spoken to me, as far as I know, about the next cycle of cleansing storms. I personally hope there isn't another cycle of such storms, but I know how rebellious we can be, and I also know that cleansing hurricanes are an important tool in the hands of a loving Father who wishes to call his children to repentance.
We can speak more about such things in future years. For now, we can celebrate. The year of our Lord, two thousand and fourteen, has been a record breaking year for God's people. That fact is worth a bit of joyous celebration.
——————————————————–
Subscription Notice: I have found that the most dependable way of notifying subscribers of a new post is through email. So I have added an email subscribe option below. Just add your email address and click subscribe (you will receive an email asking you to confirm your subscription—so check your spam folders if you don't). You will receive an email alert whenever I publish an article. Your emails will be used for no other purpose.
Image credit: iqoncept / 123RF Stock Photo
Share on Facebook