The Cusp of the Cuban Revival
March 1, 2014, 12:30 pm
Randal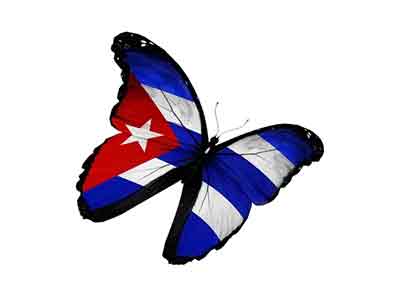 Cuba is a beautiful island nation. Of course it has the natural beauty of any Caribbean nation, but its real beauty resides in its people. If you do not like strong expressions of grateful emotion, you should probably minister elsewhere. If you enjoy being delightfully crushed in the strong embrace of a grateful brother, or having an emotional sister hug your neck, you will enjoy ministering among its people.
The reason I am thinking of Cuba, is that the Lord gave me a dream about it this past week. I had my first dream about Cuba back on November 10, 2004. The Lord told me in a dream that Cuba would begin to transition into economic freedom in seven years. He then told me that this freedom would begin when an eight dollar investment in a savings bond, at the current rate available in 2004, was worth ten dollars. When I woke up from the dream, I checked the current interest rate on a savings bond in the United States. I then did the math and found out that an eight dollar investment would be worth ten dollars exactly seven years—to the day—that I had the dream.
In the Spring of 2011, my congregation hosted a prophetic roundtable that focused upon Cuba. Rick Joyner, the head of our ministry stream, attended the conference. He told us that the Lord had shown him that the most pure revival in history would spring from Cuba. At that same conference, I shared about what the Lord had shown me, and pointed to the following November as a key time for Cuba.
On November 10, 2011, exactly seven years to the day that I had that first dream, a new Cuban law was implemented that gave the Cuban people the right to own, buy, and sell property. That day marked the beginning of Cuba's ongoing economic renaissance (You can read what I have previously written on this topic HERE and HERE).
So now, fast forward to February, 2014. On that day the Lord gave me a dream about the coming Cuban revival, and how close it is. In the dream, I was standing in a huge barn. It was filled with the sound and activity of construction and repair. It was being prepared for the coming harvest. I knew it was huge because the harvest would be huge. I was being shown the construction, and how close the barn was to being prepared for the harvest. It was almost done.
Of course, the barn represents the Church in Cuba. It is the place that the harvest of souls will be gathered and trained as disciples. It is the place from which the workers will be sent to harvest the fields. It has been under construction, but now it is almost ready.
In the next scene, I was shown the current condition of the fields in Cuba. I was walking across the field to meet two men. As I walked across the field to meet them, I picked my path very carefully. The field was so cracked and dry that there were crevasses that were several feet deep. It was obvious that there had been a severe drought. I had to place my feet carefully so that I would not stumble into a crevasse. But even more importantly, I had to make certain I did not step on any of the crops. As dry as that field was, it still had crops. In fact, I am amazed by how hardy the crops looked. Compared to the size of the field, there were not that many crops, but the men I saw were going to change that. They wanted to end the drought and make the field extremely fruitful.
I believe the two men were angels of harvest. Cuba has experienced a spiritual drought for a season, and yet souls have still been harvested, and those souls have been vital and strong. But compared to the entire population of the island, their number has been small. That is about to change. The harvest angels were there to release life into the field. When they do, the revival that Rick Joyner saw will begin.
I am excited for Cuba. I am looking forward to their revival, of course for the sake of the residents of Cuba, but also because I believe it will impact the world. And since I live in South Florida, I believe we will be among the first of those outside of Cuba to taste of this revival as it impacts South Florida's Cuban community.
I can hardly wait.
——————————————————–
Subscription Notice: I have found that the most dependable way of notifying subscribers of a new post is through email. So I have added an email subscribe option below. Just add your email address and click subscribe (you will receive an email asking you to confirm your subscription—so check your spam folders if you don't). You will receive an email alert whenever I publish an article. Your emails will be used for no other purpose.
Image credit: sunshinesmile / 123RF Stock Photo
Share on Facebook